Threaded Caps and Plugs
Cost effective threaded caps and plugs used mainly in the hydraulics, automotive, radiator, valve manufacturing, and oil and gas industries.
You can order our threaded caps and plugs from the table directly below. However if you have larger volumes to look at, please contact us for bulk pricing.
There is a comprehensive selection of BSP, Metric and UNF sizes. In addition to the standard colours, BSP caps are usually manufactured in red or yellow LDPE, however they can be made in any colour* to suit the application.
The durable low density polyethylene material protects against damage, dirt, moisture and corrosion. As a result, this helps with storage and shipping and general protection.
Our threaded plugs and caps are reusable and the polyethylene is widely recyclable, therefore are environmentally friendly.
Please call or email us if you need help to with any technical or sizing queries and do not hesitate to contact our technical sales advisors who are always ready to help. 
We can also provide material and sizing specifications should you require this.
Note some simple applications of some of Thredgards' caps and plugs.
* Options are available only on BSP sizes and depending on quantity ordered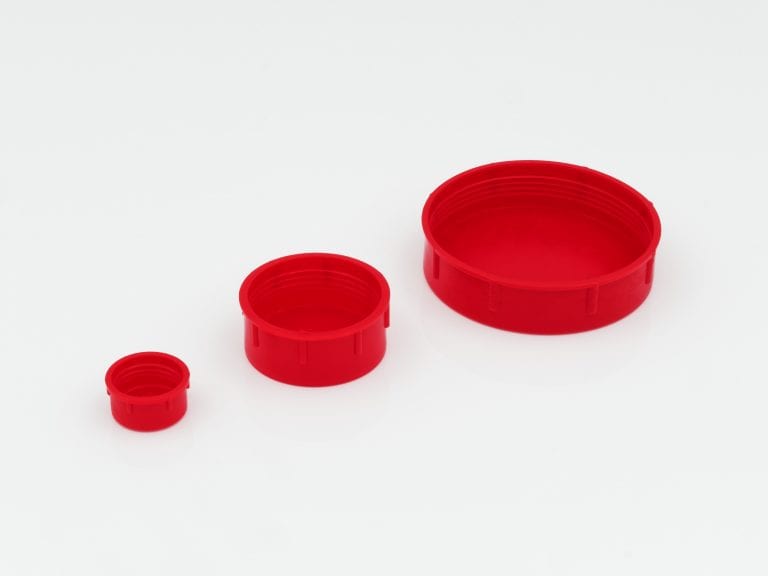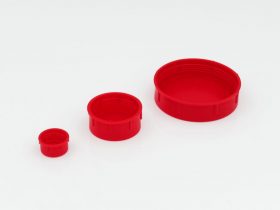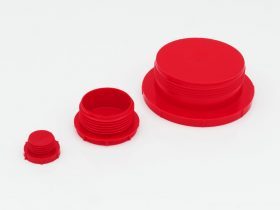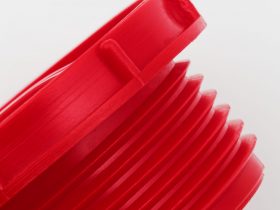 Click the icon to see bulk prices

Part No.
Compare
BSP
Metric
UNF
A
B
Colour
Bulk
Buy
hf:att:pa_bsp
hf:att:pa_metric
hf:att:pa_unf
hf:att:pa_a
hf:att:pa_b
hf:att:pa_colour
hf:att:pa_c
hf:att:pa_d
hf:att:pa_d-ins
hf:att:pa_d-mm
hf:att:pa_dn
hf:att:pa_e
hf:att:pa_f
hf:att:pa_finish
hf:att:pa_h-mm
hf:att:pa_h1-mm
hf:att:pa_i-gauge
hf:att:pa_i-mm
hf:att:pa_inside_diameter
hf:att:pa_inside_length
hf:att:pa_l-gauge
hf:att:pa_l-mm
hf:att:pa_l-x-l1-ins
hf:att:pa_l-x-l1-mm
hf:att:pa_lbs
hf:att:pa_nominal
hf:att:pa_od
hf:att:pa_shape
THC1

⅛ BSP

9.5mm

12.9mm

Yellow

,

Red

Quantity Price Breaks

Quantity
1 - 99
100 - 499
500 - 999
1000+
Price

£

0.13

£

0.09

£

0.06

£

0.04

%e2%85%9b-bsp
9-5mm
12-9mm
yellow|red
THC2

¼ BSP

11.1mm

14.2mm

Yellow

,

Red

Quantity Price Breaks

Quantity
1 - 99
100 - 499
500 - 999
1000+
Price

£

0.08

£

0.05

£

0.04

£

0.02

%c2%bc-bsp
11-1mm
14-2mm
yellow|red
THC3

⅜ BSP

11.1mm

19.0mm

Yellow

,

Red

Quantity Price Breaks

Quantity
1 - 99
100 - 499
500 - 999
1000+
Price

£

0.09

£

0.06

£

0.04

£

0.03

%e2%85%9c-bsp
11-1mm
19-0mm
yellow|red
THC4

½ BSP

12.7mm

24.6mm

Yellow

,

Red

Quantity Price Breaks

Quantity
1 - 99
100 - 499
500 - 999
1000+
Price

£

0.09

£

0.06

£

0.04

£

0.03

%c2%bd-bsp
12-7mm
24-6mm
yellow|red
THC5/8

⅝ BSP

15.7mm

25.0mm

Yellow

,

Red

Quantity Price Breaks

Quantity
1 - 99
100 - 499
500 - 999
1000+
Price

£

0.14

£

0.09

£

0.06

£

0.04

%e2%85%9d-bsp
15-7mm
25-0mm
yellow|red
THC5

¾ BSP

18.2mm

28.5mm

Yellow

,

Red

Quantity Price Breaks

Quantity
1 - 99
100 - 499
500 - 999
1000+
Price

£

0.13

£

0.09

£

0.06

£

0.04

%c2%be-bsp
18-2mm
28-5mm
yellow|red
THC6

1 BSP

19.8mm

38.1mm

Yellow

,

Red

Quantity Price Breaks

Quantity
1 - 99
100 - 499
500 - 999
1000+
Price

£

0.15

£

0.10

£

0.07

£

0.04

1-bsp
19-8mm
38-1mm
yellow|red
THC7

1¼ BSP

20.0mm

44.6mm

Yellow

,

Red

Quantity Price Breaks

Quantity
1 - 99
100 - 499
500 - 999
1000+
Price

£

0.36

£

0.24

£

0.16

£

0.11

1%c2%bc-bsp
20-0mm
44-6mm
yellow|red
THC8

1½ BSP

28.0mm

50.0mm

Yellow

,

Red

Quantity Price Breaks

Quantity
1 - 99
100 - 499
500 - 999
1000+
Price

£

0.61

£

0.40

£

0.27

£

0.18

1%c2%bd-bsp
28-0mm
50-0mm
yellow|red
THC9

2 BSP

21.1mm

62.2mm

Yellow

,

Red

Quantity Price Breaks

Quantity
1 - 99
100 - 499
500 - 999
1000+
Price

£

0.61 –

£

0.72

£

0.40 –

£

0.48

£

0.27 –

£

0.32

£

0.18 –

£

0.21

2-bsp
21-1mm
62-2mm
yellow|red
THC10

2½ BSP

27.4mm

78.0mm

Yellow

,

Red

Quantity Price Breaks

Quantity
1 - 99
100 - 499
500 - 999
1000+
Price

£

1.35

£

0.89

£

0.60

£

0.40

2%c2%bd-bsp
27-4mm
78-0mm
yellow|red
THC11

3" BSP

32.9mm

93.3mm

Yellow

Quantity Price Breaks

Quantity
1 - 99
100 - 499
500 - 999
1000+
Price

£

1.78

£

1.18

£

0.79

£

0.53

3-bsp-2
32-9mm
93-3mm
yellow
THC20

M8 x 1

10.0mm

9.9mm

Red

Quantity Price Breaks

Quantity
1 - 99
100 - 499
500 - 999
1000+
Price

£

0.40

£

0.27

£

0.18

£

0.12

m8-x-1
10-0mm
9-9mm
red
THC21

M10 x 1

10.0mm

11.9mm

Yellow

,

Red

Quantity Price Breaks

Quantity
1 - 99
100 - 499
500 - 999
1000+
Price

£

0.41

£

0.27

£

0.18

£

0.12

m10-x-1
10-0mm
11-9mm
yellow|red
THC215

M10 x 1.5

10.0mm

11.9mm

Yellow

Quantity Price Breaks

Quantity
1 - 99
100 - 499
500 - 999
1000+
Price

£

0.29

£

0.19

£

0.13

£

0.09

m10-x-1-5
10-0mm
11-9mm
yellow
THC22

M12 x 1

12.0mm

13.8mm

Red

Quantity Price Breaks

Quantity
1 - 99
100 - 499
500 - 999
1000+
Price

£

0.51

£

0.34

£

0.23

£

0.15

m12-x-1
12-0mm
13-8mm
red
THC23

M12 x 1.5

12.0mm

14.0mm

Yellow

,

Red

Quantity Price Breaks

Quantity
1 - 99
100 - 499
500 - 999
1000+
Price

£

0.48

£

0.32

£

0.21

£

0.14

m12-x-1-5
12-0mm
14-0mm
yellow|red
THC24

M14 x 1.5

12.0mm

15.9mm

Yellow

,

Red

Quantity Price Breaks

Quantity
1 - 99
100 - 499
500 - 999
1000+
Price

£

0.43

£

0.28

£

0.19

£

0.13

m14-x-1-5
12-0mm
15-9mm
yellow|red
THC25

M16 x 1.5

12.0mm

17.9mm

Yellow

,

Red

Quantity Price Breaks

Quantity
1 - 99
100 - 499
500 - 999
1000+
Price

£

0.55

£

0.36

£

0.24

£

0.16

m16-x-1-5
12-0mm
17-9mm
yellow|red
THC26

M18 x 1.5

14.0mm

19.7mm

Yellow

,

Red

Quantity Price Breaks

Quantity
1 - 99
100 - 499
500 - 999
1000+
Price

£

0.50

£

0.33

£

0.22

£

0.15

m18-x-1-5
14-0mm
19-7mm
yellow|red
THC27

M20 x 1.5

14.0mm

21.9mm

Yellow

,

Red

Quantity Price Breaks

Quantity
1 - 99
100 - 499
500 - 999
1000+
Price

£

0.33

£

0.22

£

0.15

£

0.10

m20-x-1-5
14-0mm
21-9mm
yellow|red
THC28

M22 x 1.5

13.8mm

24.3mm

Yellow

,

Red

Quantity Price Breaks

Quantity
1 - 99
100 - 499
500 - 999
1000+
Price

£

0.60

£

0.40

£

0.27

£

0.18

m22-x-1-5
13-8mm
24-3mm
yellow|red
THC29

M24 x 1.5

14.0mm

26.2mm

Yellow

,

Red

Quantity Price Breaks

Quantity
1 - 99
100 - 499
500 - 999
1000+
Price

£

0.69

£

0.46

£

0.31

£

0.21

m24-x-1-5
14-0mm
26-2mm
yellow|red
THC295

M30 x 2

9.8mm

14.6mm

Red

Quantity Price Breaks

Quantity
1 - 99
100 - 499
500 - 999
1000+
Price

£

0.73

£

0.48

£

0.32

£

0.22

m30-x-2
9-8mm
14-6mm
red
THC30

M25 x 1.5

14.0mm

27.2mm

Red

Quantity Price Breaks

Quantity
1 - 99
100 - 499
500 - 999
1000+
Price

£

0.99

£

0.66

£

0.44

£

0.29

m25-x-1-5
14-0mm
27-2mm
red
THC31

M26 x 1.5

14.0mm

28.3mm

Yellow

,

Red

Quantity Price Breaks

Quantity
1 - 99
100 - 499
500 - 999
1000+
Price

£

0.75

£

0.50

£

0.33

£

0.22

m26-x-1-5
14-0mm
28-3mm
yellow|red
THC32

M28 x 1.5

14.0mm

32.0mm

Red

Quantity Price Breaks

Quantity
1 - 99
100 - 499
500 - 999
1000+
Price

£

0.85

£

0.56

£

0.38

£

0.25

m28-x-1-5
14-0mm
32-0mm
red
THC325

M30 x 1.5

14.0mm

32.0mm

Yellow

Quantity Price Breaks

Quantity
1 - 99
100 - 499
500 - 999
1000+
Price

£

0.54

£

0.36

£

0.24

£

0.16

m30-x-1-5
14-0mm
32-0mm
yellow
THC33

M30 x 2

14.0mm

34.0mm

Yellow

,

Red

Quantity Price Breaks

Quantity
1 - 99
100 - 499
500 - 999
1000+
Price

£

1.24

£

0.82

£

0.55

£

0.37

m30-x-2
14-0mm
34-0mm
yellow|red
THC34

M36 x 2

16.0mm

38.8mm

Yellow

,

Red

Quantity Price Breaks

Quantity
1 - 99
100 - 499
500 - 999
1000+
Price

£

1.04

£

0.69

£

0.46

£

0.31

m36-x-2
16-0mm
38-8mm
yellow|red
THC35

M42 x 2

16.0mm

44.5mm

Red

Quantity Price Breaks

Quantity
1 - 99
100 - 499
500 - 999
1000+
Price

£

1.26

£

0.83

£

0.56

£

0.37

m42-x-2
16-0mm
44-5mm
red
THC355

M45 x 2

16.0mm

44.5mm

Yellow

Quantity Price Breaks

Quantity
1 - 99
100 - 499
500 - 999
1000+
Price

£

1.06

£

0.70

£

0.47

£

0.32

m45-x-2
16-0mm
44-5mm
yellow
THC36

M52 x 2

16.0mm

54.7mm

Yellow

,

Red

Quantity Price Breaks

Quantity
1 - 99
100 - 499
500 - 999
1000+
Price

£

1.63

£

1.08

£

0.73

£

0.48

m52-x-2
16-0mm
54-7mm
yellow|red
THC50

3/8-24 UNF

11.3mm

13.6mm

Red

Quantity Price Breaks

Quantity
1 - 99
100 - 499
500 - 999
1000+
Price

£

0.11

£

0.07

£

0.05

£

0.03

3-8-24-unf
11-3mm
13-6mm
red
THC505

7/16-24 UNF

12.9mm

13.3mm

Red

Quantity Price Breaks

Quantity
1 - 99
100 - 499
500 - 999
1000+
Price

£

0.30

£

0.20

£

0.13

£

0.09

7-16-24-unf
12-9mm
13-3mm
red
THC51

7/16-20 UNF

11.9mm

15.6mm

Red

Quantity Price Breaks

Quantity
1 - 99
100 - 499
500 - 999
1000+
Price

£

0.30

£

0.20

£

0.13

£

0.09

7-16-20-unf
11-9mm
15-6mm
red
THC52

1/2-20 UNF

14.1mm

17.0mm

Red

Quantity Price Breaks

Quantity
1 - 99
100 - 499
500 - 999
1000+
Price

£

0.14

£

0.09

£

0.06

£

0.04

1-2-20-unf
14-1mm
17-0mm
red
THC53

9/16-18 UNF

12.5mm

18.7mm

Red

Quantity Price Breaks

Quantity
1 - 99
100 - 499
500 - 999
1000+
Price

£

0.35

£

0.23

£

0.16

£

0.10

9-16-18-unf
12-5mm
18-7mm
red
THC54

5/8-18 UNF

18.0mm

20.3mm

Red

Quantity Price Breaks

Quantity
1 - 99
100 - 499
500 - 999
1000+
Price

£

0.16

£

0.11

£

0.07

£

0.05

5-8-18-unf
18-0mm
20-3mm
red
THC55

3/4-16 UNF

17.6mm

23.6mm

Red

Quantity Price Breaks

Quantity
1 - 99
100 - 499
500 - 999
1000+
Price

£

0.41

£

0.27

£

0.18

£

0.12

3-4-16-unf
17-6mm
23-6mm
red
THC56

11/16-16 UNF

14.2mm

21.2mm

Red

Quantity Price Breaks

Quantity
1 - 99
100 - 499
500 - 999
1000+
Price

£

0.21

£

0.14

£

0.09

£

0.06

11-16-16-unf
14-2mm
21-2mm
red
THC565

13/16-16 UNF

15.3mm

23.3mm

Red

Quantity Price Breaks

Quantity
1 - 99
100 - 499
500 - 999
1000+
Price

£

0.30

£

0.20

£

0.13

£

0.09

13-16-16-unf
15-3mm
23-3mm
red
THC57

7/8-14 UNF

19.5mm

27.0mm

Red

Quantity Price Breaks

Quantity
1 - 99
100 - 499
500 - 999
1000+
Price

£

0.33

£

0.22

£

0.15

£

0.10

7-8-14-unf
19-5mm
27-0mm
red
THC575

7/8-18 UNF

20.0mm

25.3mm

Red

Quantity Price Breaks

Quantity
1 - 99
100 - 499
500 - 999
1000+
Price

£

0.59

£

0.39

£

0.26

£

0.18

7-8-18-unf
20-0mm
25-3mm
red
THC577

1-14 UNF

17.2mm

27.6mm

Red

Quantity Price Breaks

Quantity
1 - 99
100 - 499
500 - 999
1000+
Price

£

0.20

£

0.13

£

0.09

£

0.06

1-14-unf
17-2mm
27-6mm
red
THC58

1.1/16-12 UNF

20.1mm

31.7mm

Red

Quantity Price Breaks

Quantity
1 - 99
100 - 499
500 - 999
1000+
Price

£

0.21

£

0.14

£

0.09

£

0.06

1-1-16-12-unf
20-1mm
31-7mm
red
THC585

1.3/16-12 UNF

19.1mm

32.7mm

Red

Quantity Price Breaks

Quantity
1 - 99
100 - 499
500 - 999
1000+
Price

£

0.80

£

0.53

£

0.36

£

0.24

1-3-16-12-unf
19-1mm
32-7mm
red
THC59

1.5/16-12 UNF

21.1mm

39.3mm

Red

Quantity Price Breaks

Quantity
1 - 99
100 - 499
500 - 999
1000+
Price

£

0.38

£

0.25

£

0.17

£

0.11

1-5-16-12-unf
21-1mm
39-3mm
red
THC60

1.3/8-12 UNF

24.5mm

37.4mm

Red

Quantity Price Breaks

Quantity
1 - 99
100 - 499
500 - 999
1000+
Price

£

0.96

£

0.64

£

0.43

£

0.29

1-3-8-12-unf
24-5mm
37-4mm
red
THC61

1.7.16-12 UNF

21.7mm

38.9mm

Red

Quantity Price Breaks

Quantity
1 - 99
100 - 499
500 - 999
1000+
Price

£

0.96

£

0.64

£

0.43

£

0.29

1-7-16-12-unf
21-7mm
38-9mm
red
THC62

1.5/8-12 UNF

22.0mm

44.8mm

Red

Quantity Price Breaks

Quantity
1 - 99
100 - 499
500 - 999
1000+
Price

£

0.55

£

0.36

£

0.24

£

0.16

1-5-8-12-unf
22-0mm
44-8mm
red
THC625

1.11/16-12 UNF

22.0mm

44.8mm

Yellow

Quantity Price Breaks

Quantity
1 - 99
100 - 499
500 - 999
1000+
Price

£

1.00

£

0.66

£

0.45

£

0.30

1-11-16-12-unf
22-0mm
44-8mm
yellow
THC63

1.7/8-12 UNF

25.0mm

50.3mm

Red

Quantity Price Breaks

Quantity
1 - 99
100 - 499
500 - 999
1000+
Price

£

1.28

£

0.85

£

0.57

£

0.38

1-7-8-12-unf
25-0mm
50-3mm
red
THC64

2-12 UNF

25.0mm

50.3mm

Yellow

Quantity Price Breaks

Quantity
1 - 99
100 - 499
500 - 999
1000+
Price

£

1.16

£

0.77

£

0.52

£

0.35

2-12-unf
25-0mm
50-3mm
yellow
Click the icon to see bulk prices