Round ribbed inserts
Round ribbed inserts mainly for use in the pipe manufacturing, furniture, scaffolding and tubing industries. These provide protection from sharp tube edges, dust and dirt particles, however they can also be used in various other applications. In addition, you can use them to protect floor surfaces when used as feet.
You can order these inserts from the table directly below.
The inserts are ribbed and therefore provide easy assembly and secure fitting.
We manufacture the inserts from black or white low density polyethylene. The products are reusable as well as the material being widely recyclable.
You can purchase other ribbed inserts from Thredgards. Therefore, please see our square ribbed inserts and rectangular ribbed inserts pages.
You can also use our tapered plugs for plugging solutions as well as our pipe end caps for capping solutions.
Please contact our technical sales advisers should you need any help with sizes or fitting requirements.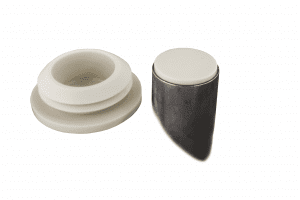 Typical application of one of our round ribbed inserts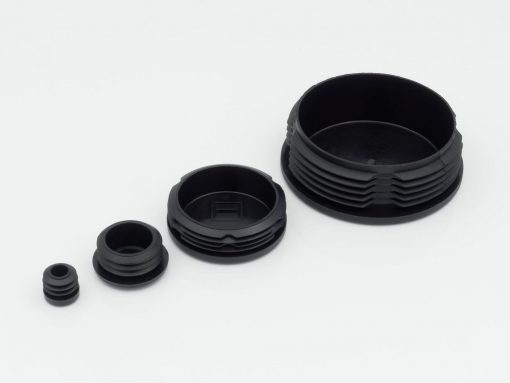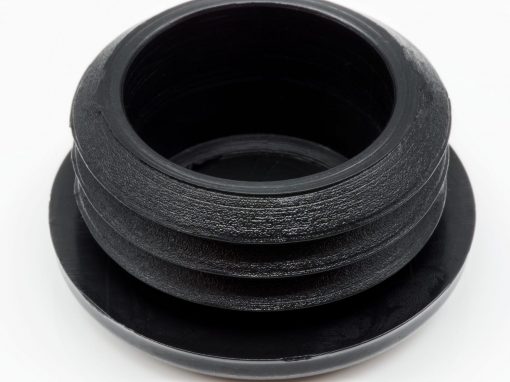 Part No.
Compare
D (mm)
D (ins)
H (mm)
H1 (mm)
L (mm)
L (gauge)
Colour
Bulk
Buy
hf:att:pa_d-mm
hf:att:pa_d-ins
hf:att:pa_h-mm
hf:att:pa_h1-mm
hf:att:pa_l-mm
hf:att:pa_l-gauge
hf:att:pa_colour
hf:att:pa_a
hf:att:pa_b
hf:att:pa_bsp
hf:att:pa_c
hf:att:pa_d
hf:att:pa_dn
hf:att:pa_e
hf:att:pa_f
hf:att:pa_finish
hf:att:pa_i-gauge
hf:att:pa_i-mm
hf:att:pa_inside_diameter
hf:att:pa_inside_length
hf:att:pa_l-x-l1-ins
hf:att:pa_l-x-l1-mm
hf:att:pa_lbs
hf:att:pa_metric
hf:att:pa_nominal
hf:att:pa_od
hf:att:pa_shape
hf:att:pa_unf
RRI-10

10.0mm

3.5mm

11.5mm

0.8-2.0mm

Black

,

White

Quantity Price Breaks

Quantity
1 - 99
100 - 499
500 - 999
1000+
Price

£

0.15

£

0.10

£

0.07

£

0.04

10-0mm
3-5mm
11-5mm
0-8-2-0mm
black|white
eroded
RRI-12

12.0mm

3.5mm

11.5mm

0.8-2.0mm

Black

,

White

Quantity Price Breaks

Quantity
1 - 99
100 - 499
500 - 999
1000+
Price

£

0.18

£

0.12

£

0.08

£

0.05

12-0mm
3-5mm
11-5mm
0-8-2-0mm
black|white
eroded
RRI-12.7

12.7mm

½"

4.0mm

11.5mm

0.8-2.0mm

12-20

Black

Quantity Price Breaks

Quantity
1 - 99
100 - 499
500 - 999
1000+
Price

£

0.18

£

0.12

£

0.08

£

0.05

12-7mm
%c2%bd
4-0mm
11-5mm
0-8-2-0mm
12-20
black
eroded
RRI-13

13.0mm

4.0mm

11.5mm

0.8-2.0mm

Black

Quantity Price Breaks

Quantity
1 - 99
100 - 499
500 - 999
1000+
Price

£

0.18

£

0.12

£

0.08

£

0.05

13-0mm
4-0mm
11-5mm
0-8-2-0mm
black
eroded
RRI-14

14.0mm

5.0mm

11.5mm

1.5-2.0mm

Black

Quantity Price Breaks

Quantity
1 - 99
100 - 499
500 - 999
1000+
Price

£

0.19

£

0.13

£

0.08

£

0.06

14-0mm
5-0mm
11-5mm
1-5-2-0mm
black
eroded
RRI-15

15.0mm

5.0mm

11.5mm

0.8-2.0mm

Black

Quantity Price Breaks

Quantity
1 - 99
100 - 499
500 - 999
1000+
Price

£

0.23

£

0.15

£

0.10

£

0.07

15-0mm
5-0mm
11-5mm
0-8-2-0mm
black
eroded
RRI-16

16.0mm

5.0mm

11.5mm

0.8-2.0mm

12-20

Black

Quantity Price Breaks

Quantity
1 - 99
100 - 499
500 - 999
1000+
Price

£

0.24

£

0.16

£

0.11

£

0.07

16-0mm
5-0mm
11-5mm
0-8-2-0mm
12-20
black
eroded
RRI-18

18.0mm

5.0mm

11.5mm

0.8-2.0mm

Black

,

White

Quantity Price Breaks

Quantity
1 - 99
100 - 499
500 - 999
1000+
Price

£

0.31

£

0.21

£

0.14

£

0.09

18-0mm
5-0mm
11-5mm
0-8-2-0mm
black|white
eroded
RRI-19

19.0mm

¾"

5.0mm

11.5mm

0.8-2.0mm

12-20

Black

Quantity Price Breaks

Quantity
1 - 99
100 - 499
500 - 999
1000+
Price

£

0.28

£

0.19

£

0.12

£

0.08

19-0mm
%c2%be
5-0mm
11-5mm
0-8-2-0mm
12-20
black
eroded
RRI-20

20.0mm

5.0mm

11.5mm

0.8-2.0mm

Black

Quantity Price Breaks

Quantity
1 - 99
100 - 499
500 - 999
1000+
Price

£

0.28

£

0.19

£

0.12

£

0.08

20-0mm
5-0mm
11-5mm
0-8-2-0mm
black
eroded
RRI-21

21.0mm

5.0mm

11.5mm

0.8-2.0mm

Black

Quantity Price Breaks

Quantity
1 - 99
100 - 499
500 - 999
1000+
Price

£

0.29

£

0.19

£

0.13

£

0.09

21-0mm
5-0mm
11-5mm
0-8-2-0mm
black
eroded
RRI-22

22.0mm

5.0mm

11.5mm

0.8-2.0mm

12-20

Black

Quantity Price Breaks

Quantity
1 - 99
100 - 499
500 - 999
1000+
Price

£

0.31

£

0.21

£

0.14

£

0.09

22-0mm
5-0mm
11-5mm
0-8-2-0mm
12-20
black
eroded
RRI-23

23.0mm

5.0mm

11.5mm

0.8-2.0mm

Black

Quantity Price Breaks

Quantity
1 - 99
100 - 499
500 - 999
1000+
Price

£

0.36

£

0.24

£

0.16

£

0.11

23-0mm
5-0mm
11-5mm
0-8-2-0mm
black
eroded
RRI-24

24.0mm

5.0mm

11.5mm

1.0-2.5mm

Black

Quantity Price Breaks

Quantity
1 - 99
100 - 499
500 - 999
1000+
Price

£

0.39

£

0.26

£

0.17

£

0.12

24-0mm
5-0mm
11-5mm
1-0-2-5mm
black
eroded
RRI-25

25.0mm

5.0mm

11.5mm

1.0-3.0mm

Black

Quantity Price Breaks

Quantity
1 - 99
100 - 499
500 - 999
1000+
Price

£

0.40

£

0.27

£

0.18

£

0.12

25-0mm
5-0mm
11-5mm
1-0-3-0mm
black
eroded
RRI-25.4

25.4mm

1"

5.0mm

11.5mm

1.0-3.0mm

10-18

Black

,

White

Quantity Price Breaks

Quantity
1 - 99
100 - 499
500 - 999
1000+
Price

£

0.46

£

0.30

£

0.20

£

0.14

25-4mm
1
5-0mm
11-5mm
1-0-3-0mm
10-18
black|white
eroded
RRI-26

26.0mm

5.0mm

11.5mm

1.0-3.0mm

Black

Quantity Price Breaks

Quantity
1 - 99
100 - 499
500 - 999
1000+
Price

£

0.43

£

0.28

£

0.19

£

0.13

26-0mm
5-0mm
11-5mm
1-0-3-0mm
black
eroded
RRI-28

28.0mm

1⅛"

5.0mm

12.4mm

1.0-3.0mm

Black

Quantity Price Breaks

Quantity
1 - 99
100 - 499
500 - 999
1000+
Price

£

0.49

£

0.32

£

0.22

£

0.15

28-0mm
1%e2%85%9b
5-0mm
12-4mm
1-0-3-0mm
black
eroded
RRI-28.6

28.6mm

5.0mm

11.5mm

1.0-3.0mm

10-18

Black

Quantity Price Breaks

Quantity
1 - 99
100 - 499
500 - 999
1000+
Price

£

0.53

£

0.35

£

0.24

£

0.16

28-6mm
5-0mm
11-5mm
1-0-3-0mm
10-18
black
eroded
RRI-30

30.0mm

5.0mm

12.4mm

1.0-3.0mm

Black

,

White

Quantity Price Breaks

Quantity
1 - 99
100 - 499
500 - 999
1000+
Price

£

0.68

£

0.45

£

0.30

£

0.20

30-0mm
5-0mm
12-4mm
1-0-3-0mm
black|white
eroded
RRI-32

32.0mm

1¼"

5.0mm

11.5mm

1.0-3.0mm

10-18

Black

Quantity Price Breaks

Quantity
1 - 99
100 - 499
500 - 999
1000+
Price

£

0.63

£

0.42

£

0.28

£

0.19

32-0mm
1%c2%bc
5-0mm
11-5mm
1-0-3-0mm
10-18
black
eroded
RRI-34

34.0mm

5.0mm

11.5mm

1.0-3.0mm

Black

Quantity Price Breaks

Quantity
1 - 99
100 - 499
500 - 999
1000+
Price

£

0.65

£

0.43

£

0.29

£

0.19

34-0mm
5-0mm
11-5mm
1-0-3-0mm
black
eroded
RRI-34/1

34.0mm

5.0mm

11.5mm

4.0-6.0mm

Black

Quantity Price Breaks

Quantity
1 - 99
100 - 499
500 - 999
1000+
Price

£

0.70

£

0.46

£

0.31

£

0.21

34-0mm
5-0mm
11-5mm
4-0-6-0mm
black
eroded
RRI-35

35.0mm

5.0mm

11.5mm

1.0-3.0mm

Black

,

White

Quantity Price Breaks

Quantity
1 - 99
100 - 499
500 - 999
1000+
Price

£

0.79

£

0.52

£

0.35

£

0.24

35-0mm
5-0mm
11-5mm
1-0-3-0mm
black|white
eroded
RRI-37

37.0mm

5.0mm

11.5mm

1.0-3.0mm

Black

,

White

Quantity Price Breaks

Quantity
1 - 99
100 - 499
500 - 999
1000+
Price

£

0.86

£

0.57

£

0.38

£

0.26

37-0mm
5-0mm
11-5mm
1-0-3-0mm
black|white
eroded
RRI-38

38.0mm

1½"

5.0mm

11.5mm

1.0-3.0mm

10-18

Black

Quantity Price Breaks

Quantity
1 - 99
100 - 499
500 - 999
1000+
Price

£

0.74

£

0.49

£

0.33

£

0.22

38-0mm
1%c2%bd
5-0mm
11-5mm
1-0-3-0mm
10-18
black
eroded
RRI-40

40.0mm

5.0mm

11.5mm

1.0-3.0mm

Black

,

White

Quantity Price Breaks

Quantity
1 - 99
100 - 499
500 - 999
1000+
Price

£

0.95

£

0.63

£

0.42

£

0.28

40-0mm
5-0mm
11-5mm
1-0-3-0mm
black|white
eroded
RRI-41.3

41.3mm

1⅝"

5.0mm

11.5mm

1.0-3.0mm

11-20

Black

,

White

Quantity Price Breaks

Quantity
1 - 99
100 - 499
500 - 999
1000+
Price

£

1.00

£

0.66

£

0.45

£

0.30

41-3mm
1%e2%85%9d
5-0mm
11-5mm
1-0-3-0mm
11-20
black|white
eroded
RRI-42

42.0mm

5.0mm

11.5mm

1.0-3.0mm

Black

,

White

Quantity Price Breaks

Quantity
1 - 99
100 - 499
500 - 999
1000+
Price

£

1.00

£

0.66

£

0.45

£

0.30

42-0mm
5-0mm
11-5mm
1-0-3-0mm
black|white
eroded
RRI-42/1

42.0mm

5.0mm

11.5mm

4.0-6.0mm

Black

Quantity Price Breaks

Quantity
1 - 99
100 - 499
500 - 999
1000+
Price

£

1.21

£

0.80

£

0.54

£

0.36

42-0mm
5-0mm
11-5mm
4-0-6-0mm
black
eroded
RRI-44.4

44.4mm

1¾"

5.0mm

11.5mm

1.0-3.0mm

11-20

Black

,

White

Quantity Price Breaks

Quantity
1 - 99
100 - 499
500 - 999
1000+
Price

£

1.04

£

0.69

£

0.46

£

0.31

44-4mm
1%c2%be
5-0mm
11-5mm
1-0-3-0mm
11-20
black|white
eroded
RRI-45

45.0mm

5.0mm

11.5mm

1.0-3.0mm

Black

,

White

Quantity Price Breaks

Quantity
1 - 99
100 - 499
500 - 999
1000+
Price

£

1.21

£

0.80

£

0.54

£

0.36

45-0mm
5-0mm
11-5mm
1-0-3-0mm
black|white
eroded
RRI-47.6

47.6mm

1⅞"

5.0mm

11.5mm

1.0-3.0mm

11-20

Black

,

White

Quantity Price Breaks

Quantity
1 - 99
100 - 499
500 - 999
1000+
Price

£

1.40

£

0.93

£

0.62

£

0.42

47-6mm
1%e2%85%9e
5-0mm
11-5mm
1-0-3-0mm
11-20
black|white
eroded
RRI-50

50.0mm

5.0mm

14.5mm

1.0-3.0mm

Black

,

White

Quantity Price Breaks

Quantity
1 - 99
100 - 499
500 - 999
1000+
Price

£

1.53

£

1.01

£

0.68

£

0.46

50-0mm
5-0mm
14-5mm
1-0-3-0mm
black|white
eroded
RRI-50.8

50.8mm

2"

5.0mm

14.5mm

1.0-3.0mm

10-18

Black

Quantity Price Breaks

Quantity
1 - 99
100 - 499
500 - 999
1000+
Price

£

1.23

£

0.81

£

0.55

£

0.37

50-8mm
2
5-0mm
14-5mm
1-0-3-0mm
10-18
black
eroded
RRI-55

55.0mm

5.0mm

11.5mm

1.0-3.0mm

Black

Quantity Price Breaks

Quantity
1 - 99
100 - 499
500 - 999
1000+
Price

£

1.60

£

1.06

£

0.71

£

0.48

55-0mm
5-0mm
11-5mm
1-0-3-0mm
black
eroded
RRI-60

60.0mm

5.0mm

14.5mm

1.0-3.0mm

Black

Quantity Price Breaks

Quantity
1 - 99
100 - 499
500 - 999
1000+
Price

£

1.81

£

1.20

£

0.81

£

0.54

60-0mm
5-0mm
14-5mm
1-0-3-0mm
black
eroded
RRI-63.5

63.5mm

2½"

6.0mm

20.0mm

2.0-4.0mm

8-12

Black

Quantity Price Breaks

Quantity
1 - 99
100 - 499
500 - 999
1000+
Price

£

3.03

£

2.01

£

1.35

£

0.90

63-5mm
2%c2%bd
6-0mm
20-0mm
2-0-4-0mm
8-12
black
eroded
RRI-63.5/1

63.5mm

2½"

5.0mm

14.5mm

1.0-3.0mm

11-20

Black

,

White

Quantity Price Breaks

Quantity
1 - 99
100 - 499
500 - 999
1000+
Price

£

2.69

£

1.78

£

1.20

£

0.80

63-5mm
2%c2%bd
5-0mm
14-5mm
1-0-3-0mm
11-20
black|white
eroded
RRI-65

65.0mm

5.0mm

14.5mm

1.0-3.0mm

Black

,

White

Quantity Price Breaks

Quantity
1 - 99
100 - 499
500 - 999
1000+
Price

£

3.11

£

2.06

£

1.38

£

0.93

65-0mm
5-0mm
14-5mm
1-0-3-0mm
black|white
eroded
RRI-70

70.0mm

5.0mm

21.0mm

2.0-4.5mm

Black

Quantity Price Breaks

Quantity
1 - 99
100 - 499
500 - 999
1000+
Price

£

2.69

£

1.78

£

1.20

£

0.80

70-0mm
5-0mm
21-0mm
2-0-4-5mm
black
eroded
RRI-75

75.0mm

6.0mm

22.0mm

2.0-4.0mm

Black

Quantity Price Breaks

Quantity
1 - 99
100 - 499
500 - 999
1000+
Price

£

3.60

£

2.39

£

1.60

£

1.07

75-0mm
6-0mm
22-0mm
2-0-4-0mm
black
eroded
RRI-76.2

76.2mm

3"

6.2mm

20.2mm

1.0-2.0mm

14-18

Black

Quantity Price Breaks

Quantity
1 - 99
100 - 499
500 - 999
1000+
Price

£

4.69

£

3.11

£

2.09

£

1.40

76-2mm
3
6-2mm
20-2mm
1-0-2-0mm
14-18
black
eroded
RRI-76.2/1

76.2mm

3"

6.0mm

22.0mm

2.0-4.0mm

8-14

Black

,

White

Quantity Price Breaks

Quantity
1 - 99
100 - 499
500 - 999
1000+
Price

£

7.94

£

5.26

£

3.53

£

2.36

76-2mm
3
6-0mm
22-0mm
2-0-4-0mm
8-14
black|white
eroded
RRI-80

80.0mm

4.0mm

21.0mm

1.5-3.0mm

Black

Quantity Price Breaks

Quantity
1 - 99
100 - 499
500 - 999
1000+
Price

£

3.40

£

2.25

£

1.51

£

1.01

80-0mm
4-0mm
21-0mm
1-5-3-0mm
black
eroded
RRI-85

85.0mm

6.0mm

21.0mm

1.5-4.0mm

Black

Quantity Price Breaks

Quantity
1 - 99
100 - 499
500 - 999
1000+
Price

£

3.27

£

2.17

£

1.46

£

0.97

85-0mm
6-0mm
21-0mm
1-5-4-0mm
black
eroded
RRI-90

90.0mm

5.0mm

20.0mm

2.5-5.0mm

Black

Quantity Price Breaks

Quantity
1 - 99
100 - 499
500 - 999
1000+
Price

£

8.39

£

5.56

£

3.73

£

2.50

90-0mm
5-0mm
20-0mm
2-5-5-0mm
black
eroded
RRI-95

95.0mm

6.0mm

21.0mm

1.5-4.0mm

Black

Quantity Price Breaks

Quantity
1 - 99
100 - 499
500 - 999
1000+
Price

£

9.88

£

6.55

£

4.40

£

2.94

95-0mm
6-0mm
21-0mm
1-5-4-0mm
black
eroded
RRI-100

100.0mm

6.0mm

28.0mm

2.0-4.5mm

Black

,

White

Quantity Price Breaks

Quantity
1 - 99
100 - 499
500 - 999
1000+
Price

£

11.41

£

7.56

£

5.08

£

3.39

100-0mm
6-0mm
28-0mm
2-0-4-5mm
black|white
eroded
RRI-105

105.0mm

6.0mm

28.0mm

2.0-4.5mm

Black

Quantity Price Breaks

Quantity
1 - 99
100 - 499
500 - 999
1000+
Price

£

9.80

£

6.49

£

4.36

£

2.92

105-0mm
6-0mm
28-0mm
2-0-4-5mm
black
eroded
RRI-110

110.0mm

6.0mm

28.0mm

2.0-4.5mm

Black

Quantity Price Breaks

Quantity
1 - 99
100 - 499
500 - 999
1000+
Price

£

11.04

£

7.31

£

4.91

£

3.28

110-0mm
6-0mm
28-0mm
2-0-4-5mm
black
eroded
RRI-120

120.0mm

6.0mm

28.0mm

2.0-4.5mm

Black

Quantity Price Breaks

Quantity
1 - 99
100 - 499
500 - 999
1000+
Price

£

12.15

£

8.05

£

5.41

£

3.61

120-0mm
6-0mm
28-0mm
2-0-4-5mm
black
eroded
Click the icon to see bulk prices & dimensions
tables are best viewed on desktop
Part No.
Compare
D (mm)
D (ins)
H (mm)
H1 (mm)
L (mm)
L (gauge)
Colour
Bulk
Buy
hf:att:pa_d-mm
hf:att:pa_d-ins
hf:att:pa_h-mm
hf:att:pa_h1-mm
hf:att:pa_l-mm
hf:att:pa_l-gauge
hf:att:pa_colour
hf:att:pa_a
hf:att:pa_b
hf:att:pa_bsp
hf:att:pa_c
hf:att:pa_d
hf:att:pa_dn
hf:att:pa_e
hf:att:pa_f
hf:att:pa_finish
hf:att:pa_i-gauge
hf:att:pa_i-mm
hf:att:pa_inside_diameter
hf:att:pa_inside_length
hf:att:pa_l-x-l1-ins
hf:att:pa_l-x-l1-mm
hf:att:pa_lbs
hf:att:pa_metric
hf:att:pa_nominal
hf:att:pa_od
hf:att:pa_shape
hf:att:pa_unf
RRI-10

10.0mm

3.5mm

11.5mm

0.8-2.0mm

Black

,

White

Quantity Price Breaks

Quantity
1 - 99
100 - 499
500 - 999
1000+
Price

£

0.15

£

0.10

£

0.07

£

0.04

10-0mm
3-5mm
11-5mm
0-8-2-0mm
black|white
eroded
RRI-12

12.0mm

3.5mm

11.5mm

0.8-2.0mm

Black

,

White

Quantity Price Breaks

Quantity
1 - 99
100 - 499
500 - 999
1000+
Price

£

0.18

£

0.12

£

0.08

£

0.05

12-0mm
3-5mm
11-5mm
0-8-2-0mm
black|white
eroded
RRI-12.7

12.7mm

½"

4.0mm

11.5mm

0.8-2.0mm

12-20

Black

Quantity Price Breaks

Quantity
1 - 99
100 - 499
500 - 999
1000+
Price

£

0.18

£

0.12

£

0.08

£

0.05

12-7mm
%c2%bd
4-0mm
11-5mm
0-8-2-0mm
12-20
black
eroded
RRI-13

13.0mm

4.0mm

11.5mm

0.8-2.0mm

Black

Quantity Price Breaks

Quantity
1 - 99
100 - 499
500 - 999
1000+
Price

£

0.18

£

0.12

£

0.08

£

0.05

13-0mm
4-0mm
11-5mm
0-8-2-0mm
black
eroded
RRI-14

14.0mm

5.0mm

11.5mm

1.5-2.0mm

Black

Quantity Price Breaks

Quantity
1 - 99
100 - 499
500 - 999
1000+
Price

£

0.19

£

0.13

£

0.08

£

0.06

14-0mm
5-0mm
11-5mm
1-5-2-0mm
black
eroded
RRI-15

15.0mm

5.0mm

11.5mm

0.8-2.0mm

Black

Quantity Price Breaks

Quantity
1 - 99
100 - 499
500 - 999
1000+
Price

£

0.23

£

0.15

£

0.10

£

0.07

15-0mm
5-0mm
11-5mm
0-8-2-0mm
black
eroded
RRI-16

16.0mm

5.0mm

11.5mm

0.8-2.0mm

12-20

Black

Quantity Price Breaks

Quantity
1 - 99
100 - 499
500 - 999
1000+
Price

£

0.24

£

0.16

£

0.11

£

0.07

16-0mm
5-0mm
11-5mm
0-8-2-0mm
12-20
black
eroded
RRI-18

18.0mm

5.0mm

11.5mm

0.8-2.0mm

Black

,

White

Quantity Price Breaks

Quantity
1 - 99
100 - 499
500 - 999
1000+
Price

£

0.31

£

0.21

£

0.14

£

0.09

18-0mm
5-0mm
11-5mm
0-8-2-0mm
black|white
eroded
RRI-19

19.0mm

¾"

5.0mm

11.5mm

0.8-2.0mm

12-20

Black

Quantity Price Breaks

Quantity
1 - 99
100 - 499
500 - 999
1000+
Price

£

0.28

£

0.19

£

0.12

£

0.08

19-0mm
%c2%be
5-0mm
11-5mm
0-8-2-0mm
12-20
black
eroded
RRI-20

20.0mm

5.0mm

11.5mm

0.8-2.0mm

Black

Quantity Price Breaks

Quantity
1 - 99
100 - 499
500 - 999
1000+
Price

£

0.28

£

0.19

£

0.12

£

0.08

20-0mm
5-0mm
11-5mm
0-8-2-0mm
black
eroded
RRI-21

21.0mm

5.0mm

11.5mm

0.8-2.0mm

Black

Quantity Price Breaks

Quantity
1 - 99
100 - 499
500 - 999
1000+
Price

£

0.29

£

0.19

£

0.13

£

0.09

21-0mm
5-0mm
11-5mm
0-8-2-0mm
black
eroded
RRI-22

22.0mm

5.0mm

11.5mm

0.8-2.0mm

12-20

Black

Quantity Price Breaks

Quantity
1 - 99
100 - 499
500 - 999
1000+
Price

£

0.31

£

0.21

£

0.14

£

0.09

22-0mm
5-0mm
11-5mm
0-8-2-0mm
12-20
black
eroded
RRI-23

23.0mm

5.0mm

11.5mm

0.8-2.0mm

Black

Quantity Price Breaks

Quantity
1 - 99
100 - 499
500 - 999
1000+
Price

£

0.36

£

0.24

£

0.16

£

0.11

23-0mm
5-0mm
11-5mm
0-8-2-0mm
black
eroded
RRI-24

24.0mm

5.0mm

11.5mm

1.0-2.5mm

Black

Quantity Price Breaks

Quantity
1 - 99
100 - 499
500 - 999
1000+
Price

£

0.39

£

0.26

£

0.17

£

0.12

24-0mm
5-0mm
11-5mm
1-0-2-5mm
black
eroded
RRI-25

25.0mm

5.0mm

11.5mm

1.0-3.0mm

Black

Quantity Price Breaks

Quantity
1 - 99
100 - 499
500 - 999
1000+
Price

£

0.40

£

0.27

£

0.18

£

0.12

25-0mm
5-0mm
11-5mm
1-0-3-0mm
black
eroded
RRI-25.4

25.4mm

1"

5.0mm

11.5mm

1.0-3.0mm

10-18

Black

,

White

Quantity Price Breaks

Quantity
1 - 99
100 - 499
500 - 999
1000+
Price

£

0.46

£

0.30

£

0.20

£

0.14

25-4mm
1
5-0mm
11-5mm
1-0-3-0mm
10-18
black|white
eroded
RRI-26

26.0mm

5.0mm

11.5mm

1.0-3.0mm

Black

Quantity Price Breaks

Quantity
1 - 99
100 - 499
500 - 999
1000+
Price

£

0.43

£

0.28

£

0.19

£

0.13

26-0mm
5-0mm
11-5mm
1-0-3-0mm
black
eroded
RRI-28

28.0mm

1⅛"

5.0mm

12.4mm

1.0-3.0mm

Black

Quantity Price Breaks

Quantity
1 - 99
100 - 499
500 - 999
1000+
Price

£

0.49

£

0.32

£

0.22

£

0.15

28-0mm
1%e2%85%9b
5-0mm
12-4mm
1-0-3-0mm
black
eroded
RRI-28.6

28.6mm

5.0mm

11.5mm

1.0-3.0mm

10-18

Black

Quantity Price Breaks

Quantity
1 - 99
100 - 499
500 - 999
1000+
Price

£

0.53

£

0.35

£

0.24

£

0.16

28-6mm
5-0mm
11-5mm
1-0-3-0mm
10-18
black
eroded
RRI-30

30.0mm

5.0mm

12.4mm

1.0-3.0mm

Black

,

White

Quantity Price Breaks

Quantity
1 - 99
100 - 499
500 - 999
1000+
Price

£

0.68

£

0.45

£

0.30

£

0.20

30-0mm
5-0mm
12-4mm
1-0-3-0mm
black|white
eroded
RRI-32

32.0mm

1¼"

5.0mm

11.5mm

1.0-3.0mm

10-18

Black

Quantity Price Breaks

Quantity
1 - 99
100 - 499
500 - 999
1000+
Price

£

0.63

£

0.42

£

0.28

£

0.19

32-0mm
1%c2%bc
5-0mm
11-5mm
1-0-3-0mm
10-18
black
eroded
RRI-34

34.0mm

5.0mm

11.5mm

1.0-3.0mm

Black

Quantity Price Breaks

Quantity
1 - 99
100 - 499
500 - 999
1000+
Price

£

0.65

£

0.43

£

0.29

£

0.19

34-0mm
5-0mm
11-5mm
1-0-3-0mm
black
eroded
RRI-34/1

34.0mm

5.0mm

11.5mm

4.0-6.0mm

Black

Quantity Price Breaks

Quantity
1 - 99
100 - 499
500 - 999
1000+
Price

£

0.70

£

0.46

£

0.31

£

0.21

34-0mm
5-0mm
11-5mm
4-0-6-0mm
black
eroded
RRI-35

35.0mm

5.0mm

11.5mm

1.0-3.0mm

Black

,

White

Quantity Price Breaks

Quantity
1 - 99
100 - 499
500 - 999
1000+
Price

£

0.79

£

0.52

£

0.35

£

0.24

35-0mm
5-0mm
11-5mm
1-0-3-0mm
black|white
eroded
RRI-37

37.0mm

5.0mm

11.5mm

1.0-3.0mm

Black

,

White

Quantity Price Breaks

Quantity
1 - 99
100 - 499
500 - 999
1000+
Price

£

0.86

£

0.57

£

0.38

£

0.26

37-0mm
5-0mm
11-5mm
1-0-3-0mm
black|white
eroded
RRI-38

38.0mm

1½"

5.0mm

11.5mm

1.0-3.0mm

10-18

Black

Quantity Price Breaks

Quantity
1 - 99
100 - 499
500 - 999
1000+
Price

£

0.74

£

0.49

£

0.33

£

0.22

38-0mm
1%c2%bd
5-0mm
11-5mm
1-0-3-0mm
10-18
black
eroded
RRI-40

40.0mm

5.0mm

11.5mm

1.0-3.0mm

Black

,

White

Quantity Price Breaks

Quantity
1 - 99
100 - 499
500 - 999
1000+
Price

£

0.95

£

0.63

£

0.42

£

0.28

40-0mm
5-0mm
11-5mm
1-0-3-0mm
black|white
eroded
RRI-41.3

41.3mm

1⅝"

5.0mm

11.5mm

1.0-3.0mm

11-20

Black

,

White

Quantity Price Breaks

Quantity
1 - 99
100 - 499
500 - 999
1000+
Price

£

1.00

£

0.66

£

0.45

£

0.30

41-3mm
1%e2%85%9d
5-0mm
11-5mm
1-0-3-0mm
11-20
black|white
eroded
RRI-42

42.0mm

5.0mm

11.5mm

1.0-3.0mm

Black

,

White

Quantity Price Breaks

Quantity
1 - 99
100 - 499
500 - 999
1000+
Price

£

1.00

£

0.66

£

0.45

£

0.30

42-0mm
5-0mm
11-5mm
1-0-3-0mm
black|white
eroded
RRI-42/1

42.0mm

5.0mm

11.5mm

4.0-6.0mm

Black

Quantity Price Breaks

Quantity
1 - 99
100 - 499
500 - 999
1000+
Price

£

1.21

£

0.80

£

0.54

£

0.36

42-0mm
5-0mm
11-5mm
4-0-6-0mm
black
eroded
RRI-44.4

44.4mm

1¾"

5.0mm

11.5mm

1.0-3.0mm

11-20

Black

,

White

Quantity Price Breaks

Quantity
1 - 99
100 - 499
500 - 999
1000+
Price

£

1.04

£

0.69

£

0.46

£

0.31

44-4mm
1%c2%be
5-0mm
11-5mm
1-0-3-0mm
11-20
black|white
eroded
RRI-45

45.0mm

5.0mm

11.5mm

1.0-3.0mm

Black

,

White

Quantity Price Breaks

Quantity
1 - 99
100 - 499
500 - 999
1000+
Price

£

1.21

£

0.80

£

0.54

£

0.36

45-0mm
5-0mm
11-5mm
1-0-3-0mm
black|white
eroded
RRI-47.6

47.6mm

1⅞"

5.0mm

11.5mm

1.0-3.0mm

11-20

Black

,

White

Quantity Price Breaks

Quantity
1 - 99
100 - 499
500 - 999
1000+
Price

£

1.40

£

0.93

£

0.62

£

0.42

47-6mm
1%e2%85%9e
5-0mm
11-5mm
1-0-3-0mm
11-20
black|white
eroded
RRI-50

50.0mm

5.0mm

14.5mm

1.0-3.0mm

Black

,

White

Quantity Price Breaks

Quantity
1 - 99
100 - 499
500 - 999
1000+
Price

£

1.53

£

1.01

£

0.68

£

0.46

50-0mm
5-0mm
14-5mm
1-0-3-0mm
black|white
eroded
RRI-50.8

50.8mm

2"

5.0mm

14.5mm

1.0-3.0mm

10-18

Black

Quantity Price Breaks

Quantity
1 - 99
100 - 499
500 - 999
1000+
Price

£

1.23

£

0.81

£

0.55

£

0.37

50-8mm
2
5-0mm
14-5mm
1-0-3-0mm
10-18
black
eroded
RRI-55

55.0mm

5.0mm

11.5mm

1.0-3.0mm

Black

Quantity Price Breaks

Quantity
1 - 99
100 - 499
500 - 999
1000+
Price

£

1.60

£

1.06

£

0.71

£

0.48

55-0mm
5-0mm
11-5mm
1-0-3-0mm
black
eroded
RRI-60

60.0mm

5.0mm

14.5mm

1.0-3.0mm

Black

Quantity Price Breaks

Quantity
1 - 99
100 - 499
500 - 999
1000+
Price

£

1.81

£

1.20

£

0.81

£

0.54

60-0mm
5-0mm
14-5mm
1-0-3-0mm
black
eroded
RRI-63.5

63.5mm

2½"

6.0mm

20.0mm

2.0-4.0mm

8-12

Black

Quantity Price Breaks

Quantity
1 - 99
100 - 499
500 - 999
1000+
Price

£

3.03

£

2.01

£

1.35

£

0.90

63-5mm
2%c2%bd
6-0mm
20-0mm
2-0-4-0mm
8-12
black
eroded
RRI-63.5/1

63.5mm

2½"

5.0mm

14.5mm

1.0-3.0mm

11-20

Black

,

White

Quantity Price Breaks

Quantity
1 - 99
100 - 499
500 - 999
1000+
Price

£

2.69

£

1.78

£

1.20

£

0.80

63-5mm
2%c2%bd
5-0mm
14-5mm
1-0-3-0mm
11-20
black|white
eroded
RRI-65

65.0mm

5.0mm

14.5mm

1.0-3.0mm

Black

,

White

Quantity Price Breaks

Quantity
1 - 99
100 - 499
500 - 999
1000+
Price

£

3.11

£

2.06

£

1.38

£

0.93

65-0mm
5-0mm
14-5mm
1-0-3-0mm
black|white
eroded
RRI-70

70.0mm

5.0mm

21.0mm

2.0-4.5mm

Black

Quantity Price Breaks

Quantity
1 - 99
100 - 499
500 - 999
1000+
Price

£

2.69

£

1.78

£

1.20

£

0.80

70-0mm
5-0mm
21-0mm
2-0-4-5mm
black
eroded
RRI-75

75.0mm

6.0mm

22.0mm

2.0-4.0mm

Black

Quantity Price Breaks

Quantity
1 - 99
100 - 499
500 - 999
1000+
Price

£

3.60

£

2.39

£

1.60

£

1.07

75-0mm
6-0mm
22-0mm
2-0-4-0mm
black
eroded
RRI-76.2

76.2mm

3"

6.2mm

20.2mm

1.0-2.0mm

14-18

Black

Quantity Price Breaks

Quantity
1 - 99
100 - 499
500 - 999
1000+
Price

£

4.69

£

3.11

£

2.09

£

1.40

76-2mm
3
6-2mm
20-2mm
1-0-2-0mm
14-18
black
eroded
RRI-76.2/1

76.2mm

3"

6.0mm

22.0mm

2.0-4.0mm

8-14

Black

,

White

Quantity Price Breaks

Quantity
1 - 99
100 - 499
500 - 999
1000+
Price

£

7.94

£

5.26

£

3.53

£

2.36

76-2mm
3
6-0mm
22-0mm
2-0-4-0mm
8-14
black|white
eroded
RRI-80

80.0mm

4.0mm

21.0mm

1.5-3.0mm

Black

Quantity Price Breaks

Quantity
1 - 99
100 - 499
500 - 999
1000+
Price

£

3.40

£

2.25

£

1.51

£

1.01

80-0mm
4-0mm
21-0mm
1-5-3-0mm
black
eroded
RRI-85

85.0mm

6.0mm

21.0mm

1.5-4.0mm

Black

Quantity Price Breaks

Quantity
1 - 99
100 - 499
500 - 999
1000+
Price

£

3.27

£

2.17

£

1.46

£

0.97

85-0mm
6-0mm
21-0mm
1-5-4-0mm
black
eroded
RRI-90

90.0mm

5.0mm

20.0mm

2.5-5.0mm

Black

Quantity Price Breaks

Quantity
1 - 99
100 - 499
500 - 999
1000+
Price

£

8.39

£

5.56

£

3.73

£

2.50

90-0mm
5-0mm
20-0mm
2-5-5-0mm
black
eroded
RRI-95

95.0mm

6.0mm

21.0mm

1.5-4.0mm

Black

Quantity Price Breaks

Quantity
1 - 99
100 - 499
500 - 999
1000+
Price

£

9.88

£

6.55

£

4.40

£

2.94

95-0mm
6-0mm
21-0mm
1-5-4-0mm
black
eroded
RRI-100

100.0mm

6.0mm

28.0mm

2.0-4.5mm

Black

,

White

Quantity Price Breaks

Quantity
1 - 99
100 - 499
500 - 999
1000+
Price

£

11.41

£

7.56

£

5.08

£

3.39

100-0mm
6-0mm
28-0mm
2-0-4-5mm
black|white
eroded
RRI-105

105.0mm

6.0mm

28.0mm

2.0-4.5mm

Black

Quantity Price Breaks

| | | | |
| --- | --- | --- | --- |
| Quantity | 1 - 99 | 100 - 499 | |