Tapered Plugs and Caps
Tapered plugs and caps are used in engineering sectors such as automotive, pipe fabrication, oil and gas, valve manufacturing and packaging.
You can order our tapered plugs and caps from the table directly below. However if you have larger volumes to look at, you can contact us for bulk pricing.
In addition, these universally designed tapered plugs can be used as protective caps, however our pipe caps are mainly used for typical end capping solutions. As an option, we can manufacture the plugs with vent holes* if this is your requirement. Because of the tapered design of these plugs, you can use each plug for a variety of sizes. With varying dimensions from bottom to top, they can therefore plug multiple inside diameters or cap multiple outer diameters. The durable low density polyethylene material protects against damage, dirt, moisture and corrosion. As a result, this is of great help with storage and shipping and general protection.
We normally manufacture these plugs in red LDPE. With Thredgards' in house manufacturing capabilities, we can therefore manufacture other colours and sizes* on request. This is available on most sizes.
We are here to help to with any technical or sizing queries, so please do not hesitate to contact our technical sales advisors who are always ready to help. 
We can also provide material and sizing specifications should you require this.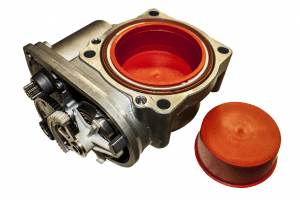 Simple application of one of our tapered plugs in a carburettor section.
* Options are available depending on quantity ordered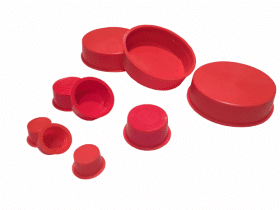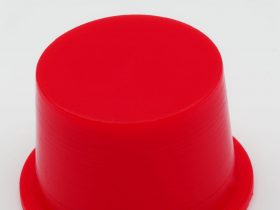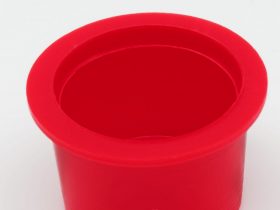 Click the icon to see bulk prices
Part No.
Compare
A
B
C
D
E
F
Colour
Bulk
Buy
hf:att:pa_a
hf:att:pa_b
hf:att:pa_c
hf:att:pa_d
hf:att:pa_e
hf:att:pa_f
hf:att:pa_colour
hf:att:pa_bsp
hf:att:pa_d-ins
hf:att:pa_d-mm
hf:att:pa_dn
hf:att:pa_finish
hf:att:pa_h-mm
hf:att:pa_h1-mm
hf:att:pa_i-gauge
hf:att:pa_i-mm
hf:att:pa_inside_diameter
hf:att:pa_inside_length
hf:att:pa_l-gauge
hf:att:pa_l-mm
hf:att:pa_l-x-l1-ins
hf:att:pa_l-x-l1-mm
hf:att:pa_lbs
hf:att:pa_metric
hf:att:pa_nominal
hf:att:pa_od
hf:att:pa_shape
hf:att:pa_unf
P1

2.9mm

4.6mm

1.3mm

3.0mm

9.5mm

7.9mm

Red

Quantity Price Breaks

Quantity
1 - 99
100 - 499
500 - 999
1000+
Price

£

0.15

£

0.10

£

0.07

£

0.04

2-9mm
4-6mm
1-3mm
3-0mm
9-5mm
7-9mm
red
P2

4.4mm

6.0mm

2.8mm

4.5mm

9.5mm

9.5mm

Red

Quantity Price Breaks

Quantity
1 - 99
100 - 499
500 - 999
1000+
Price

£

0.07

£

0.05

£

0.03

£

0.02

4-4mm
6-0mm
2-8mm
4-5mm
9-5mm
9-5mm
red
P3

6.0mm

7.7mm

5.0mm

6.1mm

9.5mm

11.1mm

Natural

,

Red

Quantity Price Breaks

Quantity
1 - 99
100 - 499
500 - 999
1000+
Price

£

0.05

£

0.03

£

0.02

£

0.01

6-0mm
7-7mm
5-0mm
6-1mm
9-5mm
11-1mm
natural|red
P3S

6.4mm

8.0mm

5.0mm

6.1mm

9.7mm

10.9mm

Natural

Quantity Price Breaks

Quantity
1 - 99
100 - 499
500 - 999
1000+
Price

£

0.24

£

0.16

£

0.11

£

0.07

6-4mm
8-0mm
5-0mm
6-1mm
9-7mm
10-9mm
natural
P4

7.6mm

9.3mm

6.3mm

7.7mm

9.5mm

12.7mm

Natural

,

Red

Quantity Price Breaks

Quantity
1 - 99
100 - 499
500 - 999
1000+
Price

£

0.07

£

0.05

£

0.03

£

0.02

7-6mm
9-3mm
6-3mm
7-7mm
9-5mm
12-7mm
natural|red
P5

8.4mm

10.1mm

6.0mm

7.6mm

9.5mm

13.5mm

Natural

,

Red

Quantity Price Breaks

Quantity
1 - 99
100 - 499
500 - 999
1000+
Price

£

0.05

£

0.03

£

0.02

£

0.01

8-4mm
10-1mm
6-0mm
7-6mm
9-5mm
13-5mm
natural|red
P5S

8.4mm

10.1mm

6.0mm

7.6mm

9.5mm

11.1mm

Natural

,

Red

Quantity Price Breaks

Quantity
1 - 99
100 - 499
500 - 999
1000+
Price

£

0.05

£

0.03

£

0.02

£

0.01

8-4mm
10-1mm
6-0mm
7-6mm
9-5mm
11-1mm
natural|red
P6

9.5mm

10.9mm

7.8mm

9.0mm

9.5mm

14.0mm

Natural

,

Red

Quantity Price Breaks

Quantity
1 - 99
100 - 499
500 - 999
1000+
Price

£

0.05

£

0.03

£

0.02

£

0.01

9-5mm
10-9mm
7-8mm
9-0mm
9-5mm
14-0mm
natural|red
P7

10.0mm

12.0mm

8.5mm

10.0mm

9.5mm

15.0mm

Natural

,

Red

Quantity Price Breaks

Quantity
1 - 99
100 - 499
500 - 999
1000+
Price

£

0.05

£

0.03

£

0.02

£

0.01

10-0mm
12-0mm
8-5mm
10-0mm
9-5mm
15-0mm
natural|red
P8

11.0mm

12.3mm

8.9mm

10.7mm

9.5mm

15.9mm

Natural

,

Red

Quantity Price Breaks

Quantity
1 - 99
100 - 499
500 - 999
1000+
Price

£

0.05

£

0.03

£

0.02

£

0.01

11-0mm
12-3mm
8-9mm
10-7mm
9-5mm
15-9mm
natural|red
P9

11.5mm

13.mm

10.0mm

11.5mm

9.5mm

16.7mm

Natural

,

Red

Quantity Price Breaks

Quantity
1 - 99
100 - 499
500 - 999
1000+
Price

£

0.05

£

0.03

£

0.02

£

0.01

11-5mm
13-mm
10-0mm
11-5mm
9-5mm
16-7mm
natural|red
P10

12.4mm

13.9mm

10.6mm

12.3mm

11.1mm

17.5mm

Natural

,

Red

Quantity Price Breaks

Quantity
1 - 99
100 - 499
500 - 999
1000+
Price

£

0.06

£

0.04

£

0.03

£

0.02

12-4mm
13-9mm
10-6mm
12-3mm
11-1mm
17-5mm
natural|red
P10E

12.5mm

14.2mm

10.6mm

12.3mm

11.1mm

17.5mm

Red

Quantity Price Breaks

Quantity
1 - 99
100 - 499
500 - 999
1000+
Price

£

0.05

£

0.03

£

0.02

£

0.01

12-5mm
14-2mm
10-6mm
12-3mm
11-1mm
17-5mm
red
P11

13.6mm

15.4mm

12.2mm

13.8mm

11.1mm

19.0mm

Natural

,

Red

Quantity Price Breaks

Quantity
1 - 99
100 - 499
500 - 999
1000+
Price

£

0.05

£

0.03

£

0.02

£

0.01

13-6mm
15-4mm
12-2mm
13-8mm
11-1mm
19-0mm
natural|red
P11LF

13.6mm

15.7mm

12.2mm

13.8mm

11.0mm

29.5mm

Red

Quantity Price Breaks

Quantity
1 - 99
100 - 499
500 - 999
1000+
Price

£

0.24

£

0.16

£

0.11

£

0.07

13-6mm
15-7mm
12-2mm
13-8mm
11-0mm
29-5mm
red
P12

14.1mm

16.0mm

12.6mm

14.4mm

11.9mm

19.0mm

Natural

,

Red

Quantity Price Breaks

Quantity
1 - 99
100 - 499
500 - 999
1000+
Price

£

0.05

£

0.03

£

0.02

£

0.01

14-1mm
16-0mm
12-6mm
14-4mm
11-9mm
19-0mm
natural|red
P13

14.7mm

17.0mm

13.2mm

15.4mm

12.7mm

20.6mm

Natural

,

Red

Quantity Price Breaks

Quantity
1 - 99
100 - 499
500 - 999
1000+
Price

£

0.10

£

0.07

£

0.04

£

0.03

14-7mm
17-0mm
13-2mm
15-4mm
12-7mm
20-6mm
natural|red
P13LF

14.7mm

17.0mm

13.2mm

15.4mm

12.7mm

25.4mm

Yellow

Quantity Price Breaks

Quantity
1 - 99
100 - 499
500 - 999
1000+
Price

£

0.33

£

0.22

£

0.15

£

0.10

14-7mm
17-0mm
13-2mm
15-4mm
12-7mm
25-4mm
yellow
P14

16.4mm

18.5mm

14.4mm

16.9mm

12.7mm

22.2mm

Natural

,

Red

Quantity Price Breaks

Quantity
1 - 99
100 - 499
500 - 999
1000+
Price

£

0.11

£

0.07

£

0.05

£

0.03

16-4mm
18-5mm
14-4mm
16-9mm
12-7mm
22-2mm
natural|red
P15

17.0mm

20.0mm

15.7mm

17.5mm

12.7mm

22.2mm

Natural

,

Red

Quantity Price Breaks

Quantity
1 - 99
100 - 499
500 - 999
1000+
Price

£

0.10

£

0.07

£

0.04

£

0.03

17-0mm
20-0mm
15-7mm
17-5mm
12-7mm
22-2mm
natural|red
P16

17.1mm

20.1mm

16.1mm

18.5mm

14.3mm

23.8mm

Red

Quantity Price Breaks

Quantity
1 - 99
100 - 499
500 - 999
1000+
Price

£

0.43

£

0.28

£

0.19

£

0.13

17-1mm
20-1mm
16-1mm
18-5mm
14-3mm
23-8mm
red
P17

18.5mm

21.2mm

17.1mm

19.3mm

14.3mm

24.6mm

Red

Quantity Price Breaks

Quantity
1 - 99
100 - 499
500 - 999
1000+
Price

£

0.11

£

0.07

£

0.05

£

0.03

18-5mm
21-2mm
17-1mm
19-3mm
14-3mm
24-6mm
red
P18

19.0mm

21.5mm

17.6mm

19.8mm

14.3mm

25.4mm

Red

Quantity Price Breaks

Quantity
1 - 99
100 - 499
500 - 999
1000+
Price

£

0.09

£

0.06

£

0.04

£

0.03

19-0mm
21-5mm
17-6mm
19-8mm
14-3mm
25-4mm
red
P19

20.3mm

23.4mm

19.2mm

21.5mm

15.9mm

27.0mm

Red

Quantity Price Breaks

Quantity
1 - 99
100 - 499
500 - 999
1000+
Price

£

0.10

£

0.07

£

0.04

£

0.03

20-3mm
23-4mm
19-2mm
21-5mm
15-9mm
27-0mm
red
P192

20.3mm

23.2mm

17.8mm

20.3mm

8.9mm

25.4mm

Natural

Quantity Price Breaks

Quantity
1 - 99
100 - 499
500 - 999
1000+
Price

£

0.13

£

0.09

£

0.06

£

0.04

20-3mm
23-2mm
17-8mm
20-3mm
8-9mm
25-4mm
natural
P20

22.1mm

25.0mm

20.0mm

22.6mm

15.9mm

28.6mm

Red

Quantity Price Breaks

Quantity
1 - 99
100 - 499
500 - 999
1000+
Price

£

0.28

£

0.19

£

0.12

£

0.08

22-1mm
25-0mm
20-0mm
22-6mm
15-9mm
28-6mm
red
P202

22.1mm

25.1mm

20.5mm

20.7mm

11.0mm

29.3mm

Red

Quantity Price Breaks

Quantity
1 - 99
100 - 499
500 - 999
1000+
Price

£

0.43

£

0.28

£

0.19

£

0.13

22-1mm
25-1mm
20-5mm
20-7mm
11-0mm
29-3mm
red
P21

23.1mm

26.3mm

21.4mm

24.4mm

16.0mm

29.mm

Red

Quantity Price Breaks

Quantity
1 - 99
100 - 499
500 - 999
1000+
Price

£

0.17

£

0.11

£

0.08

£

0.05

23-1mm
26-3mm
21-4mm
24-4mm
16-0mm
29-mm
red
P211

24.3mm

26.9mm

21.4mm

24.4mm

16.0mm

30.0mm

Red

Quantity Price Breaks

Quantity
1 - 99
100 - 499
500 - 999
1000+
Price

£

0.41

£

0.27

£

0.18

£

0.12

24-3mm
26-9mm
21-4mm
24-4mm
16-0mm
30-0mm
red
P22

25.0mm

27.8mm

23.1mm

26.1mm

16.4mm

32.0mm

Red

Quantity Price Breaks

Quantity
1 - 99
100 - 499
500 - 999
1000+
Price

£

0.15

£

0.10

£

0.07

£

0.04

25-0mm
27-8mm
23-1mm
26-1mm
16-4mm
32-0mm
red
P61

26.0mm

28.3mm

22.4mm

25.5mm

16.6mm

36.5mm

Red

Quantity Price Breaks

Quantity
1 - 99
100 - 499
500 - 999
1000+
Price

£

0.41

£

0.27

£

0.18

£

0.12

26-0mm
28-3mm
22-4mm
25-5mm
16-6mm
36-5mm
red
P23

28.1mm

31.0mm

26.5mm

29.3mm

19.0mm

34.9mm

Red

Quantity Price Breaks

Quantity
1 - 99
100 - 499
500 - 999
1000+
Price

£

0.19

£

0.13

£

0.08

£

0.06

28-1mm
31-0mm
26-5mm
29-3mm
19-0mm
34-9mm
red
P233

28.5mm

31.8mm

26.5mm

29.3mm

19.0mm

33.6mm

Red

Quantity Price Breaks

Quantity
1 - 99
100 - 499
500 - 999
1000+
Price

£

0.16

£

0.11

£

0.07

£

0.05

28-5mm
31-8mm
26-5mm
29-3mm
19-0mm
33-6mm
red
P252

29.3mm

33.9mm

27.9mm

31.7mm

9.5mm

36.8mm

Red

Quantity Price Breaks

Quantity
1 - 99
100 - 499
500 - 999
1000+
Price

£

0.43

£

0.28

£

0.19

£

0.13

29-3mm
33-9mm
27-9mm
31-7mm
9-5mm
36-8mm
red
P24

30.2mm

32.6mm

28.6mm

31.0mm

15.9mm

36.5mm

Red

Quantity Price Breaks

Quantity
1 - 99
100 - 499
500 - 999
1000+
Price

£

0.16

£

0.11

£

0.07

£

0.05

30-2mm
32-6mm
28-6mm
31-0mm
15-9mm
36-5mm
red
P25

31.4mm

34.0mm

30.0mm

32.8mm

13.0mm

36.1mm

Red

Quantity Price Breaks

Quantity
1 - 99
100 - 499
500 - 999
1000+
Price

£

0.49

£

0.32

£

0.22

£

0.15

31-4mm
34-0mm
30-0mm
32-8mm
13-0mm
36-1mm
red
P33

32.0mm

34.0mm

31.4mm

32.8mm

9.5mm

38.1mm

Red

Quantity Price Breaks

Quantity
1 - 99
100 - 499
500 - 999
1000+
Price

£

0.60

£

0.40

£

0.27

£

0.18

32-0mm
34-0mm
31-4mm
32-8mm
9-5mm
38-1mm
red
P254

32.0mm

36.3mm

30.5mm

34.0mm

22.mm

40.0mm

Red

Quantity Price Breaks

Quantity
1 - 99
100 - 499
500 - 999
1000+
Price

£

0.21

£

0.14

£

0.09

£

0.06

32-0mm
36-3mm
30-5mm
34-0mm
22-mm
40-0mm
red
P26

32.9mm

37.0mm

31.4mm

34.8mm

22.0mm

41.0mm

Red

Quantity Price Breaks

Quantity
1 - 99
100 - 499
500 - 999
1000+
Price

£

0.11

£

0.07

£

0.05

£

0.03

32-9mm
37-0mm
31-4mm
34-8mm
22-0mm
41-0mm
red
P265

33.5mm

37.7mm

31.7mm

35.6mm

24.0mm

41.3mm

Red

Quantity Price Breaks

Quantity
1 - 99
100 - 499
500 - 999
1000+
Price

£

0.15

£

0.10

£

0.07

£

0.04

33-5mm
37-7mm
31-7mm
35-6mm
24-0mm
41-3mm
red
P27

37.0mm

40.5mm

35.4mm

39.0mm

21.5mm

44.5mm

Red

Quantity Price Breaks

Quantity
1 - 99
100 - 499
500 - 999
1000+
Price

£

0.18

£

0.12

£

0.08

£

0.05

37-0mm
40-5mm
35-4mm
39-0mm
21-5mm
44-5mm
red
P34

38.0mm

40.6mm

37.1mm

39.0mm

12.7mm

44.5mm

Red

Quantity Price Breaks

Quantity
1 - 99
100 - 499
500 - 999
1000+
Price

£

0.61

£

0.40

£

0.27

£

0.18

38-0mm
40-6mm
37-1mm
39-0mm
12-7mm
44-5mm
red
P28

39.6mm

42.7mm

38.1mm

41.1mm

18.0mm

47.6mm

Red

Quantity Price Breaks

Quantity
1 - 99
100 - 499
500 - 999
1000+
Price

£

0.18

£

0.12

£

0.08

£

0.05

39-6mm
42-7mm
38-1mm
41-1mm
18-0mm
47-6mm
red
P29

41.4mm

44.6mm

39.7mm

43.0mm

17.4mm

49.2mm

Red

Quantity Price Breaks

Quantity
1 - 99
100 - 499
500 - 999
1000+
Price

£

0.21

£

0.14

£

0.09

£

0.06

41-4mm
44-6mm
39-7mm
43-0mm
17-4mm
49-2mm
red
P30

43.9mm

47.2mm

41.4mm

46.1mm

18.0mm

50.8mm

Red

Quantity Price Breaks

Quantity
1 - 99
100 - 499
500 - 999
1000+
Price

£

0.21

£

0.14

£

0.09

£

0.06

43-9mm
47-2mm
41-4mm
46-1mm
18-0mm
50-8mm
red
P301

44.9mm

47.0mm

43.1mm

46.1mm

20.4mm

50.5mm

Red

Quantity Price Breaks

Quantity
1 - 99
100 - 499
500 - 999
1000+
Price

£

0.51

£

0.34

£

0.23

£

0.15

44-9mm
47-0mm
43-1mm
46-1mm
20-4mm
50-5mm
red
P31

45.6mm

50.0mm

43.6mm

47.9mm

25.4mm

54.0mm

Red

Quantity Price Breaks

Quantity
1 - 99
100 - 499
500 - 999
1000+
Price

£

0.19

£

0.13

£

0.08

£

0.06

45-6mm
50-0mm
43-6mm
47-9mm
25-4mm
54-0mm
red
P32

48.7mm

52.5mm

46.6mm

50.9mm

25.4mm

57.1mm

Red

Quantity Price Breaks

Quantity
1 - 99
100 - 499
500 - 999
1000+
Price

£

0.20

£

0.13

£

0.09

£

0.06

48-7mm
52-5mm
46-6mm
50-9mm
25-4mm
57-1mm
red
P36

47.4mm

50.7mm

45.2mm

49.0mm

25.4mm

54.0mm

Red

Quantity Price Breaks

Quantity
1 - 99
100 - 499
500 - 999
1000+
Price

£

0.26

£

0.17

£

0.12

£

0.08

47-4mm
50-7mm
45-2mm
49-0mm
25-4mm
54-0mm
red
P37

49.3mm

53.8mm

48.8mm

52.5mm

25.4mm

57.1mm

Red

Quantity Price Breaks

Quantity
1 - 99
100 - 499
500 - 999
1000+
Price

£

0.64

£

0.42

£

0.28

£

0.19

49-3mm
53-8mm
48-8mm
52-5mm
25-4mm
57-1mm
red
P38

51.2mm

54.0mm

50.2mm

52.9mm

17.0mm

58.7mm

Red

Quantity Price Breaks

Quantity
1 - 99
100 - 499
500 - 999
1000+
Price

£

0.40

£

0.27

£

0.18

£

0.12

51-2mm
54-0mm
50-2mm
52-9mm
17-0mm
58-7mm
red
P39

53.1mm

56.6mm

51.2mm

55.1mm

25.4mm

61.9mm

Red

Quantity Price Breaks

Quantity
1 - 99
100 - 499
500 - 999
1000+
Price

£

0.29

£

0.19

£

0.13

£

0.09

53-1mm
56-6mm
51-2mm
55-1mm
25-4mm
61-9mm
red
P40

52.6mm

58.1mm

52.7mm

55.8mm

25.4mm

64.0mm

Red

Quantity Price Breaks

Quantity
1 - 99
100 - 499
500 - 999
1000+
Price

£

0.29

£

0.19

£

0.13

£

0.09

52-6mm
58-1mm
52-7mm
55-8mm
25-4mm
64-0mm
red
P40LF

53.6mm

58.2mm

52.7mm

55.8mm

25.4mm

77.0mm

Red

Quantity Price Breaks

Quantity
1 - 99
100 - 499
500 - 999
1000+
Price

£

0.75

£

0.50

£

0.33

£

0.22

53-6mm
58-2mm
52-7mm
55-8mm
25-4mm
77-0mm
red
P42

53.7mm

61.0mm

53.1mm

59.6mm

25.4mm

64.3mm

Red

Quantity Price Breaks

Quantity
1 - 99
100 - 499
500 - 999
1000+
Price

£

0.31

£

0.21

£

0.14

£

0.09

53-7mm
61-0mm
53-1mm
59-6mm
25-4mm
64-3mm
red
P43

59.3mm

62.5mm

57.2mm

61.0mm

25.4mm

66.6mm

Red

Quantity Price Breaks

Quantity
1 - 99
100 - 499
500 - 999
1000+
Price

£

0.76

£

0.50

£

0.34

£

0.23

59-3mm
62-5mm
57-2mm
61-0mm
25-4mm
66-6mm
red
P46

59.7mm

67.3mm

57.7mm

65.4mm

31.8mm

70.6mm

Red

Quantity Price Breaks

Quantity
1 - 99
100 - 499
500 - 999
1000+
Price

£

0.76

£

0.50

£

0.34

£

0.23

59-7mm
67-3mm
57-7mm
65-4mm
31-8mm
70-6mm
red
P44

61.3mm

65.0mm

57.7mm

63.3mm

25.0mm

69.8mm

Red

Quantity Price Breaks

Quantity
1 - 99
100 - 499
500 - 999
1000+
Price

£

0.41

£

0.27

£

0.18

£

0.12

61-3mm
65-0mm
57-7mm
63-3mm
25-0mm
69-8mm
red
P45

64.0mm

67.3mm

62.1mm

65.3mm

15.9mm

70.6mm

Red

Quantity Price Breaks

Quantity
1 - 99
100 - 499
500 - 999
1000+
Price

£

0.35

£

0.23

£

0.16

£

0.10

64-0mm
67-3mm
62-1mm
65-3mm
15-9mm
70-6mm
red
P47

64.8mm

69.7mm

61.5mm

67.8mm

25.4mm

73.0mm

Red

Quantity Price Breaks

Quantity
1 - 99
100 - 499
500 - 999
1000+
Price

£

0.49

£

0.32

£

0.22

£

0.15

64-8mm
69-7mm
61-5mm
67-8mm
25-4mm
73-0mm
red
P48

67.8mm

70.8mm

66.3mm

69.3mm

19.0mm

74.6mm

Red

Quantity Price Breaks

Quantity
1 - 99
100 - 499
500 - 999
1000+
Price

£

0.43

£

0.28

£

0.19

£

0.13

67-8mm
70-8mm
66-3mm
69-3mm
19-0mm
74-6mm
red
P49

70.1mm

75.1mm

68.6mm

73.9mm

24.0mm

80.0mm

Red

Quantity Price Breaks

Quantity
1 - 99
100 - 499
500 - 999
1000+
Price

£

0.44

£

0.29

£

0.20

£

0.13

70-1mm
75-1mm
68-6mm
73-9mm
24-0mm
80-0mm
red
P49S

73.9mm

74.9mm

71.4mm

76.4mm

23.8mm

80.2mm

Red

Quantity Price Breaks

Quantity
1 - 99
100 - 499
500 - 999
1000+
Price

£

0.35

£

0.23

£

0.16

£

0.10

73-9mm
74-9mm
71-4mm
76-4mm
23-8mm
80-2mm
red
P50

73.3mm

74.4mm

71.5mm

73.9mm

19.0mm

82.5mm

Red

Quantity Price Breaks

Quantity
1 - 99
100 - 499
500 - 999
1000+
Price

£

0.44

£

0.29

£

0.20

£

0.13

73-3mm
74-4mm
71-5mm
73-9mm
19-0mm
82-5mm
red
P505

73.6mm

76.8mm

72.2mm

73.5mm

24.0mm

80.0mm

Red

Quantity Price Breaks

Quantity
1 - 99
100 - 499
500 - 999
1000+
Price

£

0.41

£

0.27

£

0.18

£

0.12

73-6mm
76-8mm
72-2mm
73-5mm
24-0mm
80-0mm
red
P51

77.5mm

80.2mm

74.8mm

78.2mm

18.0mm

86.mm

Red

Quantity Price Breaks

Quantity
1 - 99
100 - 499
500 - 999
1000+
Price

£

0.48

£

0.32

£

0.21

£

0.14

77-5mm
80-2mm
74-8mm
78-2mm
18-0mm
86-mm
red
P52

76.8mm

82.4mm

74.8mm

80.8mm

25.4mm

85.7mm

Red

Quantity Price Breaks

Quantity
1 - 99
100 - 499
500 - 999
1000+
Price

£

0.63

£

0.42

£

0.28

£

0.19

76-8mm
82-4mm
74-8mm
80-8mm
25-4mm
85-7mm
red
P53

79.4mm

85.6mm

77.7mm

83.2mm

25.4mm

88.9mm

Red

Quantity Price Breaks

Quantity
1 - 99
100 - 499
500 - 999
1000+
Price

£

0.89

£

0.59

£

0.40

£

0.26

79-4mm
85-6mm
77-7mm
83-2mm
25-4mm
88-9mm
red
P551

83.1mm

87.5mm

80.0mm

87.0mm

24.5mm

92.5mm

Red

Quantity Price Breaks

Quantity
1 - 99
100 - 499
500 - 999
1000+
Price

£

0.50

£

0.33

£

0.22

£

0.15

83-1mm
87-5mm
80-0mm
87-0mm
24-5mm
92-5mm
red
P55

84.0mm

90.0mm

80.3mm

88.3mm

28.0mm

95.mm

Red

Quantity Price Breaks

Quantity
1 - 99
100 - 499
500 - 999
1000+
Price

£

0.53

£

0.35

£

0.24

£

0.16

84-0mm
90-0mm
80-3mm
88-3mm
28-0mm
95-mm
red
P54

85.7mm

88.0mm

82.9mm

85.5mm

19.0mm

92.mm

Red

Quantity Price Breaks

Quantity
1 - 99
100 - 499
500 - 999
1000+
Price

£

0.56

£

0.37

£

0.25

£

0.17

85-7mm
88-0mm
82-9mm
85-5mm
19-0mm
92-mm
red
P58

89.1mm

93.3mm

85.1mm

89.9mm

27.6mm

97.5mm

Red

Quantity Price Breaks

Quantity
1 - 99
100 - 499
500 - 999
1000+
Price

£

0.66

£

0.44

£

0.29

£

0.20

89-1mm
93-3mm
85-1mm
89-9mm
27-6mm
97-5mm
red
P63

92.4mm

97.0mm

89.0mm

94.0mm

28.0mm

102.0mm

Red

Quantity Price Breaks

Quantity
1 - 99
100 - 499
500 - 999
1000+
Price

£

0.71

£

0.47

£

0.32

£

0.21

92-4mm
97-0mm
89-0mm
94-0mm
28-0mm
102-0mm
red
P56

93.5mm

100.3mm

89.9mm

97.8mm

26.5mm

107.5mm

Red

Quantity Price Breaks

Quantity
1 - 99
100 - 499
500 - 999
1000+
Price

£

0.94

£

0.62

£

0.42

£

0.28

93-5mm
100-3mm
89-9mm
97-8mm
26-5mm
107-5mm
red
P595

98.0mm

101.4mm

94.8mm

98.5mm

24.7mm

107.2mm

Red

Quantity Price Breaks

Quantity
1 - 99
100 - 499
500 - 999
1000+
Price

£

0.95

£

0.63

£

0.42

£

0.28

98-0mm
101-4mm
94-8mm
98-5mm
24-7mm
107-2mm
red
P59

98.4mm

103.4mm

94.2mm

98.2mm

28.6mm

106.0mm

Red

Quantity Price Breaks

Quantity
1 - 99
100 - 499
500 - 999
1000+
Price

£

0.70

£

0.46

£

0.31

£

0.21

98-4mm
103-4mm
94-2mm
98-2mm
28-6mm
106-0mm
red
P599

98.5mm

102.5mm

110.0mm

30.0mm

Yellow

Quantity Price Breaks

Quantity
1 - 99
100 - 499
500 - 999
1000+
Price

£

1.84

£

1.22

£

0.82

£

0.55

98-5mm
102-5mm
110-0mm
30-0mm
yellow
P64

102.4mm

105.4mm

100.0mm

103.4mm

19.0mm

111.0mm

Red

Quantity Price Breaks

Quantity
1 - 99
100 - 499
500 - 999
1000+
Price

£

0.88

£

0.58

£

0.39

£

0.26

102-4mm
105-4mm
100-0mm
103-4mm
19-0mm
111-0mm
red
P651

106.0mm

120.0mm

103.5mm

116.0mm

35.0mm

135.0mm

Red

Quantity Price Breaks

Quantity
1 - 99
100 - 499
500 - 999
1000+
Price

£

1.29

£

0.85

£

0.57

£

0.38

106-0mm
120-0mm
103-5mm
116-0mm
35-0mm
135-0mm
red
P655

106.1mm

111.2mm

102.4mm

107.6mm

28.0mm

113.4mm

Red

Quantity Price Breaks

Quantity
1 - 99
100 - 499
500 - 999
1000+
Price

£

0.78

£

0.52

£

0.35

£

0.23

106-1mm
111-2mm
102-4mm
107-6mm
28-0mm
113-4mm
red
P65

106.7mm

111.7mm

102.4mm

107.6mm

28.4mm

113.3mm

Red

Quantity Price Breaks

Quantity
1 - 99
100 - 499
500 - 999
1000+
Price

£

0.71

£

0.47

£

0.32

£

0.21

106-7mm
111-7mm
102-4mm
107-6mm
28-4mm
113-3mm
red
P60

108.0mm

116.0mm

104.5mm

112.0mm

33.0mm

124.0mm

Red

Quantity Price Breaks

Quantity
1 - 99
100 - 499
500 - 999
1000+
Price

£

1.03

£

0.68

£

0.46

£

0.31

108-0mm
116-0mm
104-5mm
112-0mm
33-0mm
124-0mm
red
P66

112.1mm

114.3mm

107.5mm

109.8mm

28.0mm

117.mm

Red

Quantity Price Breaks

Quantity
1 - 99
100 - 499
500 - 999
1000+
Price

£

1.16

£

0.77

£

0.52

£

0.35

112-1mm
114-3mm
107-5mm
109-8mm
28-0mm
117-mm
red
P660

113.8mm

118.2mm

110.3mm

114.7mm

28.7mm

122.4mm

Red

Quantity Price Breaks

Quantity
1 - 99
100 - 499
500 - 999
1000+
Price

£

1.45

£

0.96

£

0.65

£

0.43

113-8mm
118-2mm
110-3mm
114-7mm
28-7mm
122-4mm
red
P661

116.7mm

119.6mm

114.8mm

117.5mm

24.2mm

123.mm

Red

Quantity Price Breaks

Quantity
1 - 99
100 - 499
500 - 999
1000+
Price

£

1.30

£

0.86

£

0.58

£

0.39

116-7mm
119-6mm
114-8mm
117-5mm
24-2mm
123-mm
red
P662

117.8mm

123.2mm

116.1mm

121.4mm

22.4mm

133.3mm

Red

Quantity Price Breaks

Quantity
1 - 99
100 - 499
500 - 999
1000+
Price

£

3.31

£

2.19

£

1.47

£

0.98

117-8mm
123-2mm
116-1mm
121-4mm
22-4mm
133-3mm
red
P665

124.0mm

128.0mm

125.0mm

121.0mm

23.0mm

134.0mm

Red

Quantity Price Breaks

Quantity
1 - 99
100 - 499
500 - 999
1000+
Price

£

1.71

£

1.13

£

0.76

£

0.51

124-0mm
128-0mm
125-0mm
121-0mm
23-0mm
134-0mm
red
P70

126.6mm

131.8mm

124.7mm

129.3mm

25.0mm

137.mm

Red

Quantity Price Breaks

Quantity
1 - 99
100 - 499
500 - 999
1000+
Price

£

1.05

£

0.70

£

0.47

£

0.31

126-6mm
131-8mm
124-7mm
129-3mm
25-0mm
137-mm
red
P71

129.0mm

134.5mm

126.0mm

131.5mm

37.7mm

140.2mm

Red

Quantity Price Breaks

Quantity
1 - 99
100 - 499
500 - 999
1000+
Price

£

2.60

£

1.72

£

1.16

£

0.77

129-0mm
134-5mm
126-0mm
131-5mm
37-7mm
140-2mm
red
P72

133.0mm

137.0mm

134.2mm

130.2mm

22.0mm

143.0mm

Red

Quantity Price Breaks

Quantity
1 - 99
100 - 499
500 - 999
1000+
Price

£

1.08

£

0.72

£

0.48

£

0.32

133-0mm
137-0mm
134-2mm
130-2mm
22-0mm
143-0mm
red
P668

136.5mm

144.0mm

132.3mm

140.8mm

35.0mm

155.3mm

Red

Quantity Price Breaks

Quantity
1 - 99
100 - 499
500 - 999
1000+
Price

£

4.96

£

3.29

£

2.21

£

1.48

136-5mm
144-0mm
132-3mm
140-8mm
35-0mm
155-3mm
red
P675

142.0mm

148.0mm

139.0mm

145.5mm

28.8mm

151.8mm

Red

Quantity Price Breaks

Quantity
1 - 99
100 - 499
500 - 999
1000+
Price

£

1.59

£

1.05

£

0.71

£

0.47

142-0mm
148-0mm
139-0mm
145-5mm
28-8mm
151-8mm
red
P67

145.0mm

147.0mm

142.0mm

144.0mm

25.0mm

151.0mm

Red