square end plugs
We manufacture these square and rectangle end plugs mainly for the packaging industry. However, you can also use them for pipe box section and other applications. In addition, we manufacture a selection of the sizes with holes which in turn enables the insertion of loops for hanging purposes. We also manufacture an integral hook and cap in the SQ48 size.
You can order these plugs from the table directly below.
We manufacture these plugs in low density polyethylene or polypropylene and can be produced in any colour*, therefore you can re-use the products and the material is widely recyclable.
We can manufacture these plugs using biodegradeable and biocompostable material. Therefore please let us know if this is something you are interested in.
Please also see our square ribbed inserts and rectangular ribbed inserts pages for other similar applications.
Please contact our technical sales advisers should you need any help with sizes or fitting requirements. We can send out free samples for you to try.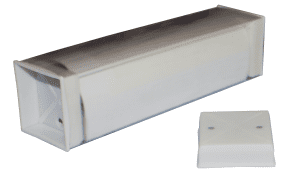 A typical application of Thredgards' square end plugs
* Options dependant on volume required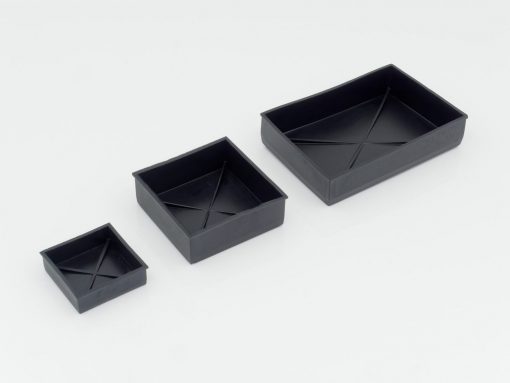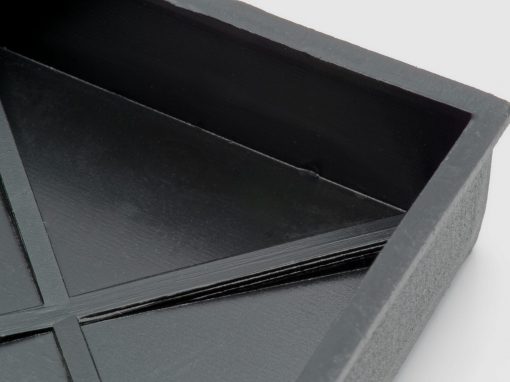 Part No.
Compare
A
B
C
Colour
Bulk
Buy
hf:att:pa_a
hf:att:pa_b
hf:att:pa_c
hf:att:pa_colour
hf:att:pa_bsp
hf:att:pa_d
hf:att:pa_d-ins
hf:att:pa_d-mm
hf:att:pa_dn
hf:att:pa_e
hf:att:pa_f
hf:att:pa_finish
hf:att:pa_h-mm
hf:att:pa_h1-mm
hf:att:pa_i-gauge
hf:att:pa_i-mm
hf:att:pa_inside_diameter
hf:att:pa_inside_length
hf:att:pa_l-gauge
hf:att:pa_l-mm
hf:att:pa_l-x-l1-ins
hf:att:pa_l-x-l1-mm
hf:att:pa_lbs
hf:att:pa_metric
hf:att:pa_nominal
hf:att:pa_od
hf:att:pa_shape
hf:att:pa_unf
SQ21

21.0mm

21.0mm

13.0mm

Black

Quantity Price Breaks

Quantity
1 - 99
100 - 499
500 - 999
1000+
Price

£

0.13

£

0.09

£

0.06

£

0.04

21-0mm
21-0mm
13-0mm
black
SQ22.5/45

22.5mm

45.0mm

13.0mm

Black

Quantity Price Breaks

Quantity
1 - 99
100 - 499
500 - 999
1000+
Price

£

0.16

£

0.11

£

0.07

£

0.05

22-5mm
45-0mm
13-0mm
black
SQ25

25.0mm

25.0mm

13.0mm

Black

Quantity Price Breaks

Quantity
1 - 99
100 - 499
500 - 999
1000+
Price

£

0.14

£

0.09

£

0.06

£

0.04

25-0mm
25-0mm
13-0mm
black
SQ25/33

25.0mm

33.0mm

13.0mm

Black

Quantity Price Breaks

Quantity
1 - 99
100 - 499
500 - 999
1000+
Price

£

0.26

£

0.17

£

0.12

£

0.08

25-0mm
33-0mm
13-0mm
black
SQ25/80

25.0mm

80.0mm

14.0mm

Black

Quantity Price Breaks

Quantity
1 - 99
100 - 499
500 - 999
1000+
Price

£

0.33

£

0.22

£

0.15

£

0.10

25-0mm
80-0mm
14-0mm
black
SQ30/45

30.0mm

45.0mm

12.0mm

Black

Quantity Price Breaks

Quantity
1 - 99
100 - 499
500 - 999
1000+
Price

£

0.28

£

0.19

£

0.12

£

0.08

30-0mm
45-0mm
12-0mm
black
SQ30/80

30.0mm

80.0mm

23.0mm

Black

Quantity Price Breaks

Quantity
1 - 99
100 - 499
500 - 999
1000+
Price

£

0.44

£

0.29

£

0.20

£

0.13

30-0mm
80-0mm
23-0mm
black
SQ32/130

32.0mm

130.0mm

14.0mm

Black

Quantity Price Breaks

Quantity
1 - 99
100 - 499
500 - 999
1000+
Price

£

0.51

£

0.34

£

0.23

£

0.15

32-0mm
130-0mm
14-0mm
black
SQ33

33.0mm

33.0mm

13.0mm

Black

Quantity Price Breaks

Quantity
1 - 99
100 - 499
500 - 999
1000+
Price

£

0.19

£

0.13

£

0.08

£

0.06

33-0mm
33-0mm
13-0mm
black
SQ33/43

33.0mm

43.0mm

13.0mm

Black

Quantity Price Breaks

Quantity
1 - 99
100 - 499
500 - 999
1000+
Price

£

0.31

£

0.21

£

0.14

£

0.09

33-0mm
43-0mm
13-0mm
black
SQ38

38.0mm

38.0mm

13.0mm

Black

Quantity Price Breaks

Quantity
1 - 99
100 - 499
500 - 999
1000+
Price

£

0.38

£

0.25

£

0.17

£

0.11

38-0mm
38-0mm
13-0mm
black
SQ40/145

40.0mm

145.0mm

23.0mm

Black

Quantity Price Breaks

Quantity
1 - 99
100 - 499
500 - 999
1000+
Price

£

0.43

£

0.28

£

0.19

£

0.13

40-0mm
145-0mm
23-0mm
black
SQ44

44.0mm

44.0mm

20.0mm

Black

Quantity Price Breaks

Quantity
1 - 99
100 - 499
500 - 999
1000+
Price

£

0.38

£

0.25

£

0.17

£

0.11

44-0mm
44-0mm
20-0mm
black
SQ44/72

44.0mm

72.0mm

13.0mm

Black

Quantity Price Breaks

Quantity
1 - 99
100 - 499
500 - 999
1000+
Price

£

0.38

£

0.25

£

0.17

£

0.11

44-0mm
72-0mm
13-0mm
black
SQ45

45.0mm

45.0mm

13.0mm

Black

Quantity Price Breaks

Quantity
1 - 99
100 - 499
500 - 999
1000+
Price

£

0.16

£

0.11

£

0.07

£

0.05

45-0mm
45-0mm
13-0mm
black
SQ46

46.0mm

46.0mm

13.0mm

Black

Quantity Price Breaks

Quantity
1 - 99
100 - 499
500 - 999
1000+
Price

£

0.45

£

0.30

£

0.20

£

0.13

46-0mm
46-0mm
13-0mm
black
SQ46/54

46.0mm

54.0mm

13.0mm

Black

Quantity Price Breaks

Quantity
1 - 99
100 - 499
500 - 999
1000+
Price

£

0.31

£

0.21

£

0.14

£

0.09

46-0mm
54-0mm
13-0mm
black
SQ48/1

48.0mm

48.0mm

23.0mm

Black

Quantity Price Breaks

Quantity
1 - 99
100 - 499
500 - 999
1000+
Price

£

0.36

£

0.24

£

0.16

£

0.11

48-0mm
48-0mm
23-0mm
black
SQ48/2

48.0mm

48.0mm

13.0mm

Black

Quantity Price Breaks

Quantity
1 - 99
100 - 499
500 - 999
1000+
Price

£

0.25

£

0.17

£

0.11

£

0.07

48-0mm
48-0mm
13-0mm
black
SQ48/57

48.0mm

57.0mm

19.0mm

Black

Quantity Price Breaks

Quantity
1 - 99
100 - 499
500 - 999
1000+
Price

£

0.31

£

0.21

£

0.14

£

0.09

48-0mm
57-0mm
19-0mm
black
SQ48/80

48.0mm

80.0mm

13.0mm

Black

Quantity Price Breaks

Quantity
1 - 99
100 - 499
500 - 999
1000+
Price

£

0.65

£

0.43

£

0.29

£

0.19

48-0mm
80-0mm
13-0mm
black
SQ49/99

49.0mm

99.0mm

20.0mm

Black

Quantity Price Breaks

Quantity
1 - 99
100 - 499
500 - 999
1000+
Price

£

0.56

£

0.37

£

0.25

£

0.17

49-0mm
99-0mm
20-0mm
black
SQ50

50.0mm

50.0mm

13.0mm

Black

Quantity Price Breaks

Quantity
1 - 99
100 - 499
500 - 999
1000+
Price

£

0.33

£

0.22

£

0.15

£

0.10

50-0mm
50-0mm
13-0mm
black
SQ60/1

60.0mm

60.0mm

23.0mm

Black

Quantity Price Breaks

Quantity
1 - 99
100 - 499
500 - 999
1000+
Price

£

0.40

£

0.27

£

0.18

£

0.12

60-0mm
60-0mm
23-0mm
black
SQ60/2

60.0mm

60.0mm

13.0mm

Black

Quantity Price Breaks

Quantity
1 - 99
100 - 499
500 - 999
1000+
Price

£

0.26

£

0.17

£

0.12

£

0.08

60-0mm
60-0mm
13-0mm
black
SQ60/100

60.0mm

100.0mm

23.0mm

Black

Quantity Price Breaks

Quantity
1 - 99
100 - 499
500 - 999
1000+
Price

£

0.59

£

0.39

£

0.26

£

0.18

60-0mm
100-0mm
23-0mm
black
SQ60/110

60.0mm

110.0mm

13.0mm

Black

Quantity Price Breaks

Quantity
1 - 99
100 - 499
500 - 999
1000+
Price

£

0.81

£

0.54

£

0.36

£

0.24

60-0mm
110-0mm
13-0mm
black
SQ61

61.0mm

61.0mm

13.0mm

Black

Quantity Price Breaks

Quantity
1 - 99
100 - 499
500 - 999
1000+
Price

£

0.55

£

0.36

£

0.24

£

0.16

61-0mm
61-0mm
13-0mm
black
SQ64

64.0mm

64.0mm

13.0mm

Black

Quantity Price Breaks

Quantity
1 - 99
100 - 499
500 - 999
1000+
Price

£

0.41

£

0.27

£

0.18

£

0.12

64-0mm
64-0mm
13-0mm
black
SQ70

70.0mm

70.0mm

23.0mm

Black

Quantity Price Breaks

Quantity
1 - 99
100 - 499
500 - 999
1000+
Price

£

0.43

£

0.28

£

0.19

£

0.13

70-0mm
70-0mm
23-0mm
black
SQ70/110

70.0mm

110.0mm

23.0mm

Black

Quantity Price Breaks

Quantity
1 - 99
100 - 499
500 - 999
1000+
Price

£

0.70

£

0.46

£

0.31

£

0.21

70-0mm
110-0mm
23-0mm
black
SQ75/85

75.0mm

75.0mm

13.0mm

Black

Quantity Price Breaks

Quantity
1 - 99
100 - 499
500 - 999
1000+
Price

£

0.58

£

0.38

£

0.26

£

0.17

75-0mm
75-0mm
13-0mm
black
SQ76

76.0mm

76.0mm

13.0mm

Black

Quantity Price Breaks

Quantity
1 - 99
100 - 499
500 - 999
1000+
Price

£

0.44

£

0.29

£

0.20

£

0.13

76-0mm
76-0mm
13-0mm
black
SQ76/116

76.0mm

116.0mm

16.0mm

Black

Quantity Price Breaks

Quantity
1 - 99
100 - 499
500 - 999
1000+
Price

£

0.64

£

0.42

£

0.28

£

0.19

76-0mm
116-0mm
16-0mm
black
SQ76/135

76.0mm

135.0mm

23.0mm

Black

Quantity Price Breaks

Quantity
1 - 99
100 - 499
500 - 999
1000+
Price

£

0.83

£

0.55

£

0.37

£

0.25

76-0mm
135-0mm
23-0mm
black
SQ80/120

80.0mm

120.0mm

23.0mm

Black

Quantity Price Breaks

Quantity
1 - 99
100 - 499
500 - 999
1000+
Price

£

0.81

£

0.54

£

0.36

£

0.24

80-0mm
120-0mm
23-0mm
black
SQ85

85.0mm

85.0mm

23.0mm

Black

Quantity Price Breaks

Quantity
1 - 99
100 - 499
500 - 999
1000+
Price

£

0.59

£

0.39

£

0.26

£

0.18

85-0mm
85-0mm
23-0mm
black
SQ100

100.0mm

100.0mm

23.0mm

Black

Quantity Price Breaks

Quantity
1 - 99
100 - 499
500 - 999
1000+
Price

£

1.44

£

0.95

£

0.64

£

0.43

100-0mm
100-0mm
23-0mm
black
Hook and Cap

48.0mm

48.0mm

13.0mm

Black

Quantity Price Breaks

Quantity
1 - 99
100 - 499
500 - 999
1000+
Price

£

0.36

£

0.24

£

0.16

£

0.11

48-0mm
48-0mm
13-0mm
black
Loops

Black

Quantity Price Breaks

Quantity
1 - 99
100 - 499
500 - 999
1000+
Price

£

0.08

£

0.05

£

0.04

£

0.02

black
Click the icon to see bulk prices & dimensions
tables are best viewed on desktop
Part No.
Compare
A
B
C
Colour
Bulk
Buy
hf:att:pa_a
hf:att:pa_b
hf:att:pa_c
hf:att:pa_colour
hf:att:pa_bsp
hf:att:pa_d
hf:att:pa_d-ins
hf:att:pa_d-mm
hf:att:pa_dn
hf:att:pa_e
hf:att:pa_f
hf:att:pa_finish
hf:att:pa_h-mm
hf:att:pa_h1-mm
hf:att:pa_i-gauge
hf:att:pa_i-mm
hf:att:pa_inside_diameter
hf:att:pa_inside_length
hf:att:pa_l-gauge
hf:att:pa_l-mm
hf:att:pa_l-x-l1-ins
hf:att:pa_l-x-l1-mm
hf:att:pa_lbs
hf:att:pa_metric
hf:att:pa_nominal
hf:att:pa_od
hf:att:pa_shape
hf:att:pa_unf
SQ21

21.0mm

21.0mm

13.0mm

Black

Quantity Price Breaks

Quantity
1 - 99
100 - 499
500 - 999
1000+
Price

£

0.13

£

0.09

£

0.06

£

0.04

21-0mm
21-0mm
13-0mm
black
SQ22.5/45

22.5mm

45.0mm

13.0mm

Black

Quantity Price Breaks

Quantity
1 - 99
100 - 499
500 - 999
1000+
Price

£

0.16

£

0.11

£

0.07

£

0.05

22-5mm
45-0mm
13-0mm
black
SQ25

25.0mm

25.0mm

13.0mm

Black

Quantity Price Breaks

Quantity
1 - 99
100 - 499
500 - 999
1000+
Price

£

0.14

£

0.09

£

0.06

£

0.04

25-0mm
25-0mm
13-0mm
black
SQ25/33

25.0mm

33.0mm

13.0mm

Black

Quantity Price Breaks

Quantity
1 - 99
100 - 499
500 - 999
1000+
Price

£

0.26

£

0.17

£

0.12

£

0.08

25-0mm
33-0mm
13-0mm
black
SQ25/80

25.0mm

80.0mm

14.0mm

Black

Quantity Price Breaks

Quantity
1 - 99
100 - 499
500 - 999
1000+
Price

£

0.33

£

0.22

£

0.15

£

0.10

25-0mm
80-0mm
14-0mm
black
SQ30/45

30.0mm

45.0mm

12.0mm

Black

Quantity Price Breaks

Quantity
1 - 99
100 - 499
500 - 999
1000+
Price

£

0.28

£

0.19

£

0.12

£

0.08

30-0mm
45-0mm
12-0mm
black
SQ30/80

30.0mm

80.0mm

23.0mm

Black

Quantity Price Breaks

Quantity
1 - 99
100 - 499
500 - 999
1000+
Price

£

0.44

£

0.29

£

0.20

£

0.13

30-0mm
80-0mm
23-0mm
black
SQ32/130

32.0mm

130.0mm

14.0mm

Black

Quantity Price Breaks

Quantity
1 - 99
100 - 499
500 - 999
1000+
Price

£

0.51

£

0.34

£

0.23

£

0.15

32-0mm
130-0mm
14-0mm
black
SQ33

33.0mm

33.0mm

13.0mm

Black

Quantity Price Breaks

Quantity
1 - 99
100 - 499
500 - 999
1000+
Price

£

0.19

£

0.13

£

0.08

£

0.06

33-0mm
33-0mm
13-0mm
black
SQ33/43

33.0mm

43.0mm

13.0mm

Black

Quantity Price Breaks

Quantity
1 - 99
100 - 499
500 - 999
1000+
Price

£

0.31

£

0.21

£

0.14

£

0.09

33-0mm
43-0mm
13-0mm
black
SQ38

38.0mm

38.0mm

13.0mm

Black

Quantity Price Breaks

Quantity
1 - 99
100 - 499
500 - 999
1000+
Price

£

0.38

£

0.25

£

0.17

£

0.11

38-0mm
38-0mm
13-0mm
black
SQ40/145

40.0mm

145.0mm

23.0mm

Black

Quantity Price Breaks

Quantity
1 - 99
100 - 499
500 - 999
1000+
Price

£

0.43

£

0.28

£

0.19

£

0.13

40-0mm
145-0mm
23-0mm
black
SQ44

44.0mm

44.0mm

20.0mm

Black

Quantity Price Breaks

Quantity
1 - 99
100 - 499
500 - 999
1000+
Price

£

0.38

£

0.25

£

0.17

£

0.11

44-0mm
44-0mm
20-0mm
black
SQ44/72

44.0mm

72.0mm

13.0mm

Black

Quantity Price Breaks

Quantity
1 - 99
100 - 499
500 - 999
1000+
Price

£

0.38

£

0.25

£

0.17

£

0.11

44-0mm
72-0mm
13-0mm
black
SQ45

45.0mm

45.0mm

13.0mm

Black

Quantity Price Breaks

Quantity
1 - 99
100 - 499
500 - 999
1000+
Price

£

0.16

£

0.11

£

0.07

£

0.05

45-0mm
45-0mm
13-0mm
black
SQ46

46.0mm

46.0mm

13.0mm

Black

Quantity Price Breaks

Quantity
1 - 99
100 - 499
500 - 999
1000+
Price

£

0.45

£

0.30

£

0.20

£

0.13

46-0mm
46-0mm
13-0mm
black
SQ46/54

46.0mm

54.0mm

13.0mm

Black

Quantity Price Breaks

Quantity
1 - 99
100 - 499
500 - 999
1000+
Price

£

0.31

£

0.21

£

0.14

£

0.09

46-0mm
54-0mm
13-0mm
black
SQ48/1

48.0mm

48.0mm

23.0mm

Black

Quantity Price Breaks

Quantity
1 - 99
100 - 499
500 - 999
1000+
Price

£

0.36

£

0.24

£

0.16

£

0.11

48-0mm
48-0mm
23-0mm
black
SQ48/2

48.0mm

48.0mm

13.0mm

Black

Quantity Price Breaks

Quantity
1 - 99
100 - 499
500 - 999
1000+
Price

£

0.25

£

0.17

£

0.11

£

0.07

48-0mm
48-0mm
13-0mm
black
SQ48/57

48.0mm

57.0mm

19.0mm

Black

Quantity Price Breaks

Quantity
1 - 99
100 - 499
500 - 999
1000+
Price

£

0.31

£

0.21

£

0.14

£

0.09

48-0mm
57-0mm
19-0mm
black
SQ48/80

48.0mm

80.0mm

13.0mm

Black

Quantity Price Breaks

Quantity
1 - 99
100 - 499
500 - 999
1000+
Price

£

0.65

£

0.43

£

0.29

£

0.19

48-0mm
80-0mm
13-0mm
black
SQ49/99

49.0mm

99.0mm

20.0mm

Black

Quantity Price Breaks

Quantity
1 - 99
100 - 499
500 - 999
1000+
Price

£

0.56

£

0.37

£

0.25

£

0.17

49-0mm
99-0mm
20-0mm
black
SQ50

50.0mm

50.0mm

13.0mm

Black

Quantity Price Breaks

Quantity
1 - 99
100 - 499
500 - 999
1000+
Price

£

0.33

£

0.22

£

0.15

£

0.10

50-0mm
50-0mm
13-0mm
black
SQ60/1

60.0mm

60.0mm

23.0mm

Black

Quantity Price Breaks

Quantity
1 - 99
100 - 499
500 - 999
1000+
Price

£

0.40

£

0.27

£

0.18

£

0.12

60-0mm
60-0mm
23-0mm
black
SQ60/2

60.0mm

60.0mm

13.0mm

Black

Quantity Price Breaks

Quantity
1 - 99
100 - 499
500 - 999
1000+
Price

£

0.26

£

0.17

£

0.12

£

0.08

60-0mm
60-0mm
13-0mm
black
SQ60/100

60.0mm

100.0mm

23.0mm

Black

Quantity Price Breaks

Quantity
1 - 99
100 - 499
500 - 999
1000+
Price

£

0.59

£

0.39

£

0.26

£

0.18

60-0mm
100-0mm
23-0mm
black
SQ60/110

60.0mm

110.0mm

13.0mm

Black

Quantity Price Breaks

Quantity
1 - 99
100 - 499
500 - 999
1000+
Price

£

0.81

£

0.54

£

0.36

£

0.24

60-0mm
110-0mm
13-0mm
black
SQ61

61.0mm

61.0mm

13.0mm

Black

Quantity Price Breaks

Quantity
1 - 99
100 - 499
500 - 999
1000+
Price

£

0.55

£

0.36

£

0.24

£

0.16

61-0mm
61-0mm
13-0mm
black
SQ64

64.0mm

64.0mm

13.0mm

Black

Quantity Price Breaks

Quantity
1 - 99
100 - 499
500 - 999
1000+
Price

£

0.41

£

0.27

£

0.18

£

0.12

64-0mm
64-0mm
13-0mm
black
SQ70

70.0mm

70.0mm

23.0mm

Black

Quantity Price Breaks

Quantity
1 - 99
100 - 499
500 - 999
1000+
Price

£

0.43

£

0.28

£

0.19

£

0.13

70-0mm
70-0mm
23-0mm
black
SQ70/110

70.0mm

110.0mm

23.0mm

Black

Quantity Price Breaks

Quantity
1 - 99
100 - 499
500 - 999
1000+
Price

£

0.70

£

0.46

£

0.31

£

0.21

70-0mm
110-0mm
23-0mm
black
SQ75/85

75.0mm

75.0mm

13.0mm

Black

Quantity Price Breaks

Quantity
1 - 99
100 - 499
500 - 999
1000+
Price

£

0.58

£

0.38

£

0.26

£

0.17

75-0mm
75-0mm
13-0mm
black
SQ76

76.0mm

76.0mm

13.0mm

Black

Quantity Price Breaks

Quantity
1 - 99
100 - 499
500 - 999
1000+
Price

£

0.44

£

0.29

£

0.20

£

0.13

76-0mm
76-0mm
13-0mm
black
SQ76/116

76.0mm

116.0mm

16.0mm

Black

Quantity Price Breaks

Quantity
1 - 99
100 - 499
500 - 999
1000+
Price

£

0.64

£

0.42

£

0.28

£

0.19

76-0mm
116-0mm
16-0mm
black
SQ76/135

76.0mm

135.0mm

23.0mm

Black

Quantity Price Breaks

Quantity
1 - 99
100 - 499
500 - 999
1000+
Price

£

0.83

£

0.55

£

0.37

£

0.25

76-0mm
135-0mm
23-0mm
black
SQ80/120

80.0mm

120.0mm

23.0mm

Black

Quantity Price Breaks

Quantity
1 - 99
100 - 499
500 - 999
1000+
Price

£

0.81

£

0.54

£

0.36

£

0.24

80-0mm
120-0mm
23-0mm
black
SQ85

85.0mm

85.0mm

23.0mm

Black

Quantity Price Breaks

Quantity
1 - 99
100 - 499
500 - 999
1000+
Price

£

0.59

£

0.39

£

0.26

£

0.18

85-0mm
85-0mm
23-0mm
black
SQ100

100.0mm

100.0mm

23.0mm

Black

Quantity Price Breaks

Quantity
1 - 99
100 - 499
500 - 999
1000+
Price

£

1.44

£

0.95

£

0.64

£

0.43

100-0mm
100-0mm
23-0mm
black
Hook and Cap

48.0mm

48.0mm

13.0mm

Black

Quantity Price Breaks

Quantity
1 - 99
100 - 499
500 - 999
1000+
Price

£

0.36

£

0.24

£

0.16

£

0.11

48-0mm
48-0mm
13-0mm
black
Loops

Black

Quantity Price Breaks

Quantity
1 - 99
100 - 499
500 - 999
1000+
Price

£

0.08

£

0.05

£

0.04

£

0.02

black