Pipe End Caps
High quality and cost effective pipe end caps available in standard DN and other bespoke sizes. We manufacture these caps from low density polyethylene.
You can order the pipe end caps directly below.
You can also use them as protective end caps for machined flanges and ducts. The Packaging Industry also use these and they come in a variety of sizes and depths. For instance, they are sometimes used for cardboard cores and tubes. However, our tube end plugs and caps may be more suitable for packaging applications.
On pipe and ducting applications, the internal ribs ensure a tight fit yet easy release, therefore they provide excellent protection against damage, dust and other potential hazards. You can also use our tapered plug and cap range for some end capping solutions.
Due to Thredgards' in house manufacturing capabilities, we can produce some of the caps in the range in any colour* to suit the application. We can also manufacture some of the caps with a vent hole.*
Other sizes may also be available that are not listed, therefore please contact us to discuss your requirements.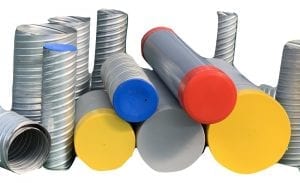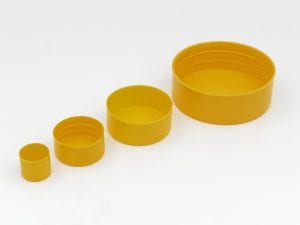 * These options are only available on some sizes and dependant on volume, so please contact us to discuss
Click the icon to see bulk prices
Part No.
Compare
DN
A
B
Colour
Bulk
Buy
hf:att:pa_dn
hf:att:pa_a
hf:att:pa_b
hf:att:pa_colour
hf:att:pa_bsp
hf:att:pa_c
hf:att:pa_d
hf:att:pa_d-ins
hf:att:pa_d-mm
hf:att:pa_e
hf:att:pa_f
hf:att:pa_finish
hf:att:pa_h-mm
hf:att:pa_h1-mm
hf:att:pa_i-gauge
hf:att:pa_i-mm
hf:att:pa_inside_diameter
hf:att:pa_inside_length
hf:att:pa_l-gauge
hf:att:pa_l-mm
hf:att:pa_l-x-l1-ins
hf:att:pa_l-x-l1-mm
hf:att:pa_lbs
hf:att:pa_metric
hf:att:pa_nominal
hf:att:pa_od
hf:att:pa_shape
hf:att:pa_unf
C7

7.0mm

18.0mm

Yellow

Quantity Price Breaks

Quantity
1 - 99
100 - 499
500 - 999
1000+
Price

£

0.09

£

0.06

£

0.04

£

0.03

7-0mm
18-0mm
yellow
C7.8

7.8mm

18.0mm

Yellow

Quantity Price Breaks

Quantity
1 - 99
100 - 499
500 - 999
1000+
Price

£

0.09

£

0.06

£

0.04

£

0.03

7-8mm
18-0mm
yellow
C8

8.0mm

18.0mm

Yellow

Quantity Price Breaks

Quantity
1 - 99
100 - 499
500 - 999
1000+
Price

£

0.09

£

0.06

£

0.04

£

0.03

8-0mm
18-0mm
yellow
C12/28

12.0mm

28.0mm

Yellow

Quantity Price Breaks

Quantity
1 - 99
100 - 499
500 - 999
1000+
Price

£

0.19

£

0.13

£

0.08

£

0.06

12-0mm
28-0mm
yellow
C13

13.0mm

18.0mm

Yellow

Quantity Price Breaks

Quantity
1 - 99
100 - 499
500 - 999
1000+
Price

£

0.09

£

0.06

£

0.04

£

0.03

13-0mm
18-0mm
yellow
C20/40

19.8mm

40.0mm

Blue

Quantity Price Breaks

Quantity
1 - 99
100 - 499
500 - 999
1000+
Price

£

0.18

£

0.12

£

0.08

£

0.05

19-8mm
40-0mm
blue
C20/76

20.0mm

76.0mm

Black

Quantity Price Breaks

Quantity
1 - 99
100 - 499
500 - 999
1000+
Price

£

2.06

£

1.36

£

0.92

£

0.61

20-0mm
76-0mm
black
C21

DN 1/2"

20.9mm

13.0mm

Yellow

Quantity Price Breaks

Quantity
1 - 99
100 - 499
500 - 999
1000+
Price

£

0.24

£

0.16

£

0.11

£

0.07

dn-1-2
20-9mm
13-0mm
yellow
C22

22.0mm

25.0mm

Red

Quantity Price Breaks

Quantity
1 - 99
100 - 499
500 - 999
1000+
Price

£

1.06

£

0.70

£

0.47

£

0.32

22-0mm
25-0mm
red
C24

23.9mm

16.0mm

Red

Quantity Price Breaks

Quantity
1 - 99
100 - 499
500 - 999
1000+
Price

£

0.18

£

0.12

£

0.08

£

0.05

23-9mm
16-0mm
red
C24F

24.0mm

16.0mm

Red

Quantity Price Breaks

Quantity
1 - 99
100 - 499
500 - 999
1000+
Price

£

0.15

£

0.10

£

0.07

£

0.04

24-0mm
16-0mm
red
C25

25.0mm

23.0mm

Black

Quantity Price Breaks

Quantity
1 - 99
100 - 499
500 - 999
1000+
Price

£

0.58

£

0.38

£

0.26

£

0.17

25-0mm
23-0mm
black
C26

26.0mm

26.0mm

Yellow

Quantity Price Breaks

Quantity
1 - 99
100 - 499
500 - 999
1000+
Price

£

0.31

£

0.21

£

0.14

£

0.09

26-0mm
26-0mm
yellow
C27

DN 3/4"

26.9mm

25.0mm

Yellow

Quantity Price Breaks

Quantity
1 - 99
100 - 499
500 - 999
1000+
Price

£

0.29

£

0.19

£

0.13

£

0.09

dn-3-4
26-9mm
25-0mm
yellow
C28

28.0mm

24.0mm

Blue

Quantity Price Breaks

Quantity
1 - 99
100 - 499
500 - 999
1000+
Price

£

0.54

£

0.36

£

0.24

£

0.16

28-0mm
24-0mm
blue
C28/1

28.0mm

28.0mm

Yellow

Quantity Price Breaks

Quantity
1 - 99
100 - 499
500 - 999
1000+
Price

£

0.54

£

0.36

£

0.24

£

0.16

28-0mm
28-0mm
yellow
C30

26.5mm

Red

Quantity Price Breaks

Quantity
1 - 99
100 - 499
500 - 999
1000+
Price

£

0.96

£

0.64

£

0.43

£

0.29

26-5mm
red
C31

31.7mm

13.0mm

Black

Quantity Price Breaks

Quantity
1 - 99
100 - 499
500 - 999
1000+
Price

£

0.54

£

0.36

£

0.24

£

0.16

31-7mm
13-0mm
black
C34

DN 1"

34.0mm

28.0mm

Yellow

Quantity Price Breaks

Quantity
1 - 99
100 - 499
500 - 999
1000+
Price

£

0.28

£

0.19

£

0.12

£

0.08

dn-1
34-0mm
28-0mm
yellow
C34/22

33.7mm

22.0mm

Yellow

Quantity Price Breaks

Quantity
1 - 99
100 - 499
500 - 999
1000+
Price

£

0.28

£

0.19

£

0.12

£

0.08

33-7mm
22-0mm
yellow
C35/22

35.0mm

22.0mm

Yellow

Quantity Price Breaks

Quantity
1 - 99
100 - 499
500 - 999
1000+
Price

£

0.21

£

0.14

£

0.09

£

0.06

35-0mm
22-0mm
yellow
C35

34.8mm

12.0mm

Red

Quantity Price Breaks

Quantity
1 - 99
100 - 499
500 - 999
1000+
Price

£

0.69

£

0.46

£

0.31

£

0.21

34-8mm
12-0mm
red
C36

36.0mm

22.0mm

Blue

Quantity Price Breaks

Quantity
1 - 99
100 - 499
500 - 999
1000+
Price

£

0.58

£

0.38

£

0.26

£

0.17

36-0mm
22-0mm
blue
C38

38.0mm

12.0mm

Red

Quantity Price Breaks

Quantity
1 - 99
100 - 499
500 - 999
1000+
Price

£

0.15

£

0.10

£

0.07

£

0.04

38-0mm
12-0mm
red
C42

DN 1.1/4"

42.0mm

32.0mm

Yellow

Quantity Price Breaks

Quantity
1 - 99
100 - 499
500 - 999
1000+
Price

£

0.51

£

0.34

£

0.23

£

0.15

dn-1-1-4
42-0mm
32-0mm
yellow
C44

44.4mm

12.0mm

Red

Quantity Price Breaks

Quantity
1 - 99
100 - 499
500 - 999
1000+
Price

£

0.56

£

0.37

£

0.25

£

0.17

44-4mm
12-0mm
red
C44/1

44.0mm

34.0mm

Red

Quantity Price Breaks

Quantity
1 - 99
100 - 499
500 - 999
1000+
Price

£

0.56

£

0.37

£

0.25

£

0.17

44-0mm
34-0mm
red
C45F

45.0mm

36.0mm

Red

Quantity Price Breaks

Quantity
1 - 99
100 - 499
500 - 999
1000+
Price

£

0.41

£

0.27

£

0.18

£

0.12

45-0mm
36-0mm
red
C48

DN 1.1/2"

48.0mm

26.0mm

Yellow

Quantity Price Breaks

Quantity
1 - 99
100 - 499
500 - 999
1000+
Price

£

0.24

£

0.16

£

0.11

£

0.07

dn-1-1-2
48-0mm
26-0mm
yellow
C48F

DN 1.1/2"

48.0mm

36.0mm

Red

Quantity Price Breaks

Quantity
1 - 99
100 - 499
500 - 999
1000+
Price

£

0.48

£

0.32

£

0.21

£

0.14

dn-1-1-2
48-0mm
36-0mm
red
C51

50.8mm

27.0mm

Yellow

Quantity Price Breaks

Quantity
1 - 99
100 - 499
500 - 999
1000+
Price

£

1.10

£

0.73

£

0.49

£

0.33

50-8mm
27-0mm
yellow
C54

54.0mm

34.0mm

Yellow

Quantity Price Breaks

Quantity
1 - 99
100 - 499
500 - 999
1000+
Price

£

1.24

£

0.82

£

0.55

£

0.37

54-0mm
34-0mm
yellow
C57

57.0mm

35.0mm

Yellow

Quantity Price Breaks

Quantity
1 - 99
100 - 499
500 - 999
1000+
Price

£

1.24

£

0.82

£

0.55

£

0.37

57-0mm
35-0mm
yellow
C57/40

57.0mm

40.0mm

Red

Quantity Price Breaks

Quantity
1 - 99
100 - 499
500 - 999
1000+
Price

£

1.34

£

0.89

£

0.60

£

0.40

57-0mm
40-0mm
red
C59

59.0mm

10.0mm

Grey

Quantity Price Breaks

Quantity
1 - 99
100 - 499
500 - 999
1000+
Price

£

0.55

£

0.36

£

0.24

£

0.16

59-0mm
10-0mm
grey
C59/1

59.0mm

25.0mm

Grey

Quantity Price Breaks

Quantity
1 - 99
100 - 499
500 - 999
1000+
Price

£

0.78

£

0.52

£

0.35

£

0.23

59-0mm
25-0mm
grey
C60

DN 2"

60.3mm

28.0mm

Yellow

Quantity Price Breaks

Quantity
1 - 99
100 - 499
500 - 999
1000+
Price

£

0.78

£

0.52

£

0.35

£

0.23

dn-2
60-3mm
28-0mm
yellow
C61F

61.0mm

26.0mm

Red

Quantity Price Breaks

Quantity
1 - 99
100 - 499
500 - 999
1000+
Price

£

0.51

£

0.34

£

0.23

£

0.15

61-0mm
26-0mm
red
C63

63.0mm

24.0mm

Red

Quantity Price Breaks

Quantity
1 - 99
100 - 499
500 - 999
1000+
Price

£

0.36

£

0.24

£

0.16

£

0.11

63-0mm
24-0mm
red
C64

63.5mm

33.0mm

Yellow

Quantity Price Breaks

Quantity
1 - 99
100 - 499
500 - 999
1000+
Price

£

0.74

£

0.49

£

0.33

£

0.22

63-5mm
33-0mm
yellow
C69

69.8mm

15.0mm

Red

Quantity Price Breaks

Quantity
1 - 99
100 - 499
500 - 999
1000+
Price

£

0.61

£

0.40

£

0.27

£

0.18

69-8mm
15-0mm
red
C70

70.0mm

30.0mm

Yellow

Quantity Price Breaks

Quantity
1 - 99
100 - 499
500 - 999
1000+
Price

£

1.86

£

1.23

£

0.83

£

0.55

70-0mm
30-0mm
yellow
C72

72.0mm

15.0mm

Red

Quantity Price Breaks

Quantity
1 - 99
100 - 499
500 - 999
1000+
Price

£

0.64

£

0.42

£

0.28

£

0.19

72-0mm
15-0mm
red
C76

DN 2.1/2"

76.0mm

28.0mm

Yellow

Quantity Price Breaks

Quantity
1 - 99
100 - 499
500 - 999
1000+
Price

£

1.30

£

0.86

£

0.58

£

0.39

dn-2-1-2
76-0mm
28-0mm
yellow
C78

78.0mm

12.0mm

Yellow

Quantity Price Breaks

Quantity
1 - 99
100 - 499
500 - 999
1000+
Price

£

0.65

£

0.43

£

0.29

£

0.19

78-0mm
12-0mm
yellow
C81

81.0mm

12.0mm

Red

Quantity Price Breaks

Quantity
1 - 99
100 - 499
500 - 999
1000+
Price

£

0.55

£

0.36

£

0.24

£

0.16

81-0mm
12-0mm
red
C85

85.0mm

25.0mm

Black

Quantity Price Breaks

Quantity
1 - 99
100 - 499
500 - 999
1000+
Price

£

1.38

£

0.91

£

0.61

£

0.41

85-0mm
25-0mm
black
C85/82

85.0mm

82.0mm

Natural

Quantity Price Breaks

Quantity
1 - 99
100 - 499
500 - 999
1000+
Price

£

2.68

£

1.78

£

1.19

£

0.80

85-0mm
82-0mm
natural
C89

DN3"

89.0mm

32.0mm

Yellow

Quantity Price Breaks

Quantity
1 - 99
100 - 499
500 - 999
1000+
Price

£

0.88

£

0.58

£

0.39

£

0.26

dn3
89-0mm
32-0mm
yellow
C92

92.0mm

30.0mm

Yellow

Quantity Price Breaks

Quantity
1 - 99
100 - 499
500 - 999
1000+
Price

£

1.14

£

0.76

£

0.51

£

0.34

92-0mm
30-0mm
yellow
C96

96.0mm

10.0mm

Red

Quantity Price Breaks

Quantity
1 - 99
100 - 499
500 - 999
1000+
Price

£

0.74

£

0.49

£

0.33

£

0.22

96-0mm
10-0mm
red
C97

96.5mm

40.0mm

Red

Quantity Price Breaks

Quantity
1 - 99
100 - 499
500 - 999
1000+
Price

£

0.94

£

0.62

£

0.42

£

0.28

96-5mm
40-0mm
red
C100

DN 3.1/2"

100.0mm

12.0mm

Yellow

Quantity Price Breaks

Quantity
1 - 99
100 - 499
500 - 999
1000+
Price

£

1.05

£

0.70

£

0.47

£

0.31

dn-3-1-2
100-0mm
12-0mm
yellow
C101

101.0mm

30.0mm

Red

Quantity Price Breaks

Quantity
1 - 99
100 - 499
500 - 999
1000+
Price

£

0.91

£

0.60

£

0.40

£

0.27

101-0mm
30-0mm
red
C103

103.0mm

30.0mm

Yellow

Quantity Price Breaks

Quantity
1 - 99
100 - 499
500 - 999
1000+
Price

£

1.31

£

0.87

£

0.58

£

0.39

103-0mm
30-0mm
yellow
C110

110.0mm

39.0mm

Black

Quantity Price Breaks

Quantity
1 - 99
100 - 499
500 - 999
1000+
Price

£

0.91

£

0.60

£

0.40

£

0.27

110-0mm
39-0mm
black
C114

DN 4"

114.3mm

40.0mm

Yellow

Quantity Price Breaks

Quantity
1 - 99
100 - 499
500 - 999
1000+
Price

£

1.61

£

1.07

£

0.72

£

0.48

dn-4
114-3mm
40-0mm
yellow
C117

117.0mm

30.0mm

Red

Quantity Price Breaks

Quantity
1 - 99
100 - 499
500 - 999
1000+
Price

£

1.38

£

0.91

£

0.61

£

0.41

117-0mm
30-0mm
red
C120

120.0mm

16.0mm

Red

Quantity Price Breaks

Quantity
1 - 99
100 - 499
500 - 999
1000+
Price

£

1.23

£

0.81

£

0.55

£

0.37

120-0mm
16-0mm
red
C121

121.0mm

19.0mm

Red

Quantity Price Breaks

Quantity
1 - 99
100 - 499
500 - 999
1000+
Price

£

1.30

£

0.86

£

0.58

£

0.39

121-0mm
19-0mm
red
C125

125.0mm

41.0mm

Yellow

Quantity Price Breaks

Quantity
1 - 99
100 - 499
500 - 999
1000+
Price

£

1.50

£

0.99

£

0.67

£

0.45

125-0mm
41-0mm
yellow
C127

DN 4.1/2"

127.0mm

40.5mm

Black

Quantity Price Breaks

Quantity
1 - 99
100 - 499
500 - 999
1000+
Price

£

1.34

£

0.89

£

0.60

£

0.40

dn-4-1-2
127-0mm
40-5mm
black
C134

134.0mm

19.0mm

Black

Quantity Price Breaks

Quantity
1 - 99
100 - 499
500 - 999
1000+
Price

£

1.36

£

0.90

£

0.61

£

0.40

134-0mm
19-0mm
black
C134/35

134.0mm

35.0mm

Black

Quantity Price Breaks

Quantity
1 - 99
100 - 499
500 - 999
1000+
Price

£

1.41

£

0.93

£

0.63

£

0.42

134-0mm
35-0mm
black
C139

DN 5"

139.0mm

19.0mm

Black

Quantity Price Breaks

Quantity
1 - 99
100 - 499
500 - 999
1000+
Price

£

1.21

£

0.80

£

0.54

£

0.36

dn-5
139-0mm
19-0mm
black
C141

141.3mm

40.0mm

Yellow

Quantity Price Breaks

Quantity
1 - 99
100 - 499
500 - 999
1000+
Price

£

2.46

£

1.63

£

1.09

£

0.73

141-3mm
40-0mm
yellow
C160

19.0mm

Black

Quantity Price Breaks

Quantity
1 - 99
100 - 499
500 - 999
1000+
Price

£

1.55

£

1.03

£

0.69

£

0.46

19-0mm
black
C168

DN 6"

168.3mm

40.0mm

Yellow

Quantity Price Breaks

Quantity
1 - 99
100 - 499
500 - 999
1000+
Price

£

3.38

£

2.24

£

1.50

£

1.01

dn-6
168-3mm
40-0mm
yellow
C180

180.0mm

40.0mm

Yellow

Quantity Price Breaks

Quantity
1 - 99
100 - 499
500 - 999
1000+
Price

£

7.78

£

5.15

£

3.46

£

2.31

180-0mm
40-0mm
yellow
C182

182.0mm

24.0mm

Red

Quantity Price Breaks

Quantity
1 - 99
100 - 499
500 - 999
1000+
Price

£

1.41

£

0.93

£

0.63

£

0.42

182-0mm
24-0mm
red
C190

190.0mm

24.0mm

Black

Quantity Price Breaks

Quantity
1 - 99
100 - 499
500 - 999
1000+
Price

£

1.41

£

0.93

£

0.63

£

0.42

190-0mm
24-0mm
black
C219

DN 8"

219.1mm

40.0mm

Yellow

Quantity Price Breaks

Quantity
1 - 99
100 - 499
500 - 999
1000+
Price

£

4.65

£

3.08

£

2.07

£

1.38

dn-8
219-1mm
40-0mm
yellow
C219-Blu (Budget)

DN 8"

219.1mm

30.0mm

Blue

Quantity Price Breaks

Quantity
1 - 99
100 - 499
500 - 999
1000+
Price

£

3.71

£

2.46

£

1.65

£

1.10

dn-8
219-1mm
30-0mm
blue
C273

DN 10"

273.0mm

45.0mm

Yellow

Quantity Price Breaks

Quantity
1 - 99
100 - 499
500 - 999
1000+
Price

£

11.91

£

7.89

£

5.30

£

3.54

dn-10
273-0mm
45-0mm
yellow
C273-Blu (Budget)

DN 10"

273.0mm

30.0mm

Blue

Quantity Price Breaks

Quantity
1 - 99
100 - 499
500 - 999
1000+
Price

£

4.81

£

3.19

£

2.14

£

1.43

dn-10
273-0mm
30-0mm
blue
C323

DN 12"

323.9mm

50.0mm

Yellow

Quantity Price Breaks

Quantity
1 - 99
100 - 499
500 - 999
1000+
Price

£

12.83

£

8.50

£

5.71

£

3.82

dn-12
323-9mm
50-0mm
yellow
C323-Blu (Budget)

DN 12"

323.9mm

30.0mm

Blue

Quantity Price Breaks

Quantity
1 - 99
100 - 499
500 - 999
1000+
Price

£

6.94

£

4.60

£

3.09

£

2.06

dn-12
323-9mm
30-0mm
blue
C355

DN 14"

355.6mm

57.0mm

Yellow

Quantity Price Breaks

Quantity
1 - 99
100 - 499
500 - 999
1000+
Price

£

20.16

£

13.36

£

8.97

£

6.00

dn-14
355-6mm
57-0mm
yellow
C355-Blu (Budget)

DN 14"

355.6mm

32.0mm

Blue

Quantity Price Breaks

Quantity
1 - 99
100 - 499
500 - 999
1000+
Price

£

9.40

£

6.23

£

4.18

£

2.80

dn-14
355-6mm
32-0mm
blue
C406

DN 16"

406.4mm

62.0mm

Yellow

Quantity Price Breaks

Quantity
1 - 99
100 - 499
500 - 999
1000+
Price

£

88.95

£

58.93

£

39.58

£

26.46

dn-16
406-4mm
62-0mm
yellow
C406-Blu (Budget)

DN 16"

406.4mm

36.0mm

Blue

Quantity Price Breaks

Quantity
1 - 99
100 - 499
500 - 999
1000+
Price

£

11.78

£

7.80

£

5.24

£

3.50

dn-16
406-4mm
36-0mm
blue
C457

DN 18"

457.2mm

62.0mm

Yellow

Quantity Price Breaks

Quantity
1 - 99
100 - 499
500 - 999
1000+
Price

£

41.16

£

27.27

£

18.32

£

12.25

dn-18
457-2mm
62-0mm
yellow
C457-Blu (Budget)

DN 18"

457.2mm

38.0mm

Blue

Quantity Price Breaks

Quantity
1 - 99
100 - 499
500 - 999
1000+
Price

£

19.20

£

12.72

£

8.54

£

5.71

dn-18
457-2mm
38-0mm
blue
C508

DN 20"

508.0mm

67.0mm

Yellow

Quantity Price Breaks

Quantity
1 - 99
100 - 499
500 - 999
1000+
Price

£

63.79

£

42.26

£

28.39

£

18.98

dn-20
508-0mm
67-0mm
yellow
C508-Blu (Budget)

DN 20"

508.0mm

38.0mm

Blue

Quantity Price Breaks

Quantity
1 - 99
100 - 499
500 - 999
1000+
Price

£

34.10

£

22.59

£

15.17

£

10.14

dn-20
508-0mm
38-0mm
blue
C559

DN 22"

558.8mm

60.0mm

Yellow

Quantity Price Breaks

Quantity
1 - 99
100 - 499
500 - 999
1000+
Price

£

79.66

£

52.77

£

35.45

£

23.70

dn-22
558-8mm
60-0mm
yellow
C559-Blu (Budget)

DN 22"

558.8mm

32.0mm

Blue

Quantity Price Breaks

Quantity
1 - 99
100 - 499
500 - 999
1000+
Price

£

37.75

£

25.01

£

16.80

£

11.23

dn-22
558-8mm
32-0mm
blue
C609

DN 24"

609.6mm

67.0mm

Yellow

Quantity Price Breaks

Quantity
1 - 99
100 - 499
500 - 999
1000+
Price

£

122.60

£

81.22

£

54.56

£

36.47

dn-24
609-6mm
67-0mm
yellow
C609-Blu (Budget)

DN 24"

609.6mm

50.0mm

Blue

Quantity Price Breaks

Quantity
1 - 99
100 - 499
500 - 999
1000+
Price

£

36.82

£

24.39

£

16.38

£

10.95

dn-24
609-6mm
50-0mm
blue
C762

DN 30"

762.0mm

120.0mm

Black

Quantity Price Breaks

Quantity
1 - 99
100 - 499
500 - 999
1000+
Price

£

208.23

£

137.95

£

92.66

£

61.95

dn-30
762-0mm
120-0mm
black
C762-Blu (Budget)

DN 30"

762.0mm

50.0mm

Blue

Quantity Price Breaks

Quantity
1 - 99
100 - 499
500 - 999
1000+
Price

£

73.64

£

48.79

£

32.77

£

21.91

dn-30
762-0mm
50-0mm
blue
C812-Blu (Budget)

DN32"

812.8mm

74.0mm

Blue

Quantity Price Breaks

Quantity
1 - 99
100 - 499
500 - 999
1000+
Price

£

107.50

£

71.22

£

47.84

£

31.98

dn32-2
812-8mm
74-0mm
blue
C914-Blu (Budget)

DN36"

914.4mm

88.0mm

Blue

Quantity Price Breaks

Quantity
1 - 99
100 - 499
500 - 999
1000+
Price

£

140.58

£

93.13

£

62.56

£

41.82

dn36
914-4mm
88-0mm
blue
Click the icon to see bulk prices & dimensions
tables are best viewed on desktop